Girls Night Out to be held on Friday, Nov. 15
Hang on for a minute...we're trying to find some more stories you might like.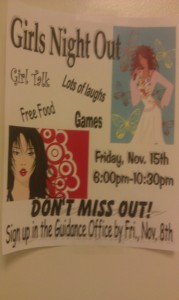 This Friday, Nov. 15, is Pattonville's annual Girls Night Out (GNO) event.
Girls that come out to the event participate in games, make new friends and build stronger bonds with their peers.
"I expect to accomplish sisterhood, show girls that every girl is not an enemy and that girls have more in common once we get to know each other," counselor Alysia Harris  said.
GNO is hosted at the school beginning at 6 p.m. and lasts until 10:30 p.m.
All girls in every grade are eligible to attend with a signed permission slip which is available in the guidance office. There is no admission fee but be sure to see Harris in the guidance office if there are any questions or concerns.
All permission slips are due by Wednesday, Nov. 13, to Harris in the guidance office.