ANNOUNCEMENTS Jan. 8, 2014
PattonvilleTODAY staff
January 8, 2014
Hang on for a minute...we're trying to find some more stories you might like.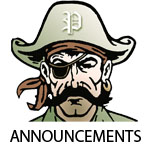 Wednesday, Jan. 8-
Due to just a two day school week, there will be an AA week. There will be no early release on Thursday, January 9.
Due to inclement weather, the staff work day that was scheduled for Tuesday, January 7 was cancelled. Therefore semester one grades will be released and mailed home on Friday, January 10.