Productive Ways To Survive The Snow Days
Hang on for a minute...we're trying to find some more stories you might like.
Alarm clocks buzzed as early as 5:00 a.m. this morning for some students in anticipation of their first day of school in nearly three weeks. However, after hundreds of phone calls and e-mail alerts, students learned that inclement weather had extended their Winter Break even further.
Originally scheduled to resume elementary schools on Jan. 6 and all other schools the following day, Pattonville school district has cancelled all school days taking place up till Thursday, Jan.9. Addressing safety concerns by calling off school, these snow days gave Pattonville students more hours to spend away from the desk.
Regardless if school is cancelled Friday, students may be searching for things to do over the weekend, similar to their experiences on snow days. With hours of time off due to prolonged inclementweather conditions, students had the opportunity to adjust routines and spend time innovatively. In case Pattonville endures more snow days in the near future, here are 10 valuable plans for students looking to spend their free time wisely and productively.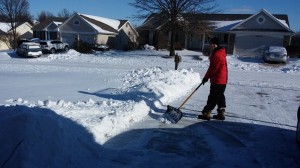 1. Shovel Snow
One problem many people experience during snow days is making plans away from their household. Since many people travel from one location to another via car, it seems logical to shovel snow out of the driveway to avoid serious car mechanical problems. Junior Alek Mansdoerfer believes that snow shoveling can be "physically challenging" but "a rewarding way to earn money."
2. Rearrange Room/Closet
While this option may not top everyone's list, it could help one feel more organized and comfortable about his or her common surroundings. Rather it be finding items to donate, cleaning dust off shelves or moving around furniture, cleaning up the room during spare time can provide a fresh outlook of one's space, evoke a sense of relief, and make an overwhelming task seem more enjoyable.
3. Read
People tend to look at words on a daily basis, even though they carry less meaning if not related to something in their particular interests. Snow days give students more time to read novels or magazines for pure enjoyment as opposed to readings that are forced in classes. For instance, a sports fan may have more time to read articles about young rising stars or an interesting biography about an athlete.
4. Hang With Friends/ Neighbors
If you're stuck at home due to weather, chances are some of your close friends and neighbors are experiencing the same. One can hang out with people close by and only have to worry about bundling up for a few minutes. Friends could engage in recreational activities such as video games, but could also help each other fulfill various household responsibilities.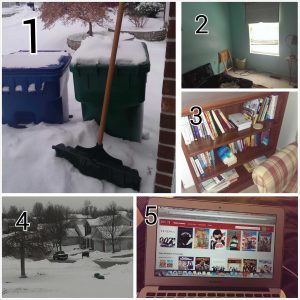 5. Watch Movies/Television
Another way to take advantage of these snow days recreationally would be to watch interesting movies or popular television series. The popularity of Netflix with high school students has inflated recently, for the website offers a plethora of movies and television series that appeal to a wide audience for a minor monthly fee. "I love to wrap up in a blanket and watch Netflix," said senior Emily Nessing. "I'm usually too busy to relax like that [during school]."
6. Bake
Occasionally, people may start to crave warmer and tastier foods in order to battle the breezy weather. One could quickly heat up food by frying or microwaving, but baking provides a more satisfying and fresh taste for making delicious treats. Although some treats may take long to make, it's difficult to pass up on cookies and cakes when the smell resonates from the oven. Sophomore Jack Brown baking cookies because he "gets a thrill out of making his own treats."
7. Exercise Indoors
Admittedly, it becomes tough to remain active when the weather gets colder and inconsistent because there may not be much opportunity to engage in physical activity outdoors. By using several machines or basic weights, people wanting to maintain healthy habits could develop unique routines and exercises that burn as much energy as running outdoors. "I went to the community center when it snowed a few weeks ago, and ran on the treadmill for about an hour," said junior Chelsea Sharp.
8. Sled or Ice Skate
Aside from snow shoveling, one can bundle up for winterly activities that hold more significance in cold and snowy weather. There are an abundance of hilly places in the Pattonville school district that can provide slippery slopes for sledding such as O'Connor or Bridgeway Park. Contrastingly, since many popular ice rinks are closer to downtown St. Louis, there are not many venues close to Pattonville. Sophomore Adam Goss suggests "to bring a large group of friends to skate at Steinburg Rink."
9. Find New Music
Musical taste tends to change over time, and as a result one could advantage of their free time to find some new tunes he or she enjoys. For those who don't have a music-playing device like an iPod or Smartphone, several websites can help one build taste in new music. Choosing new tunes can speak volumes for a person's life, for it can affect how people carry out daily tasks, deal with emotions and feelings, and motivate others to accept life's challenges.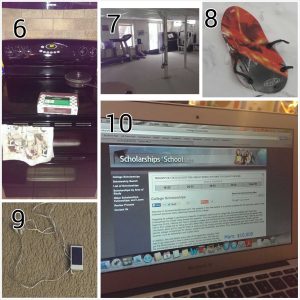 10. Search For Scholarships
Last but not least, this free time allows students to look into college scholarships and decide on a potential career field. After seniors narrow down their schooling options for next year, they could save money by looking into new scholarships and FAFSA opportunities that become available. It may take a few months to discover all of the ways one can save money for tuition costs, but investing time to find money-saving options for one's academics and talents can help one obtain goals and set up a bright future.
In the end, these plans can help students stay away from boredom and use their free time productively. The sky is the limit for students and these options are sure ones to consider moving forward into 2014.