ANNOUNCEMENTS Jan. 14, 2014
Hang on for a minute...we're trying to find some more stories you might like.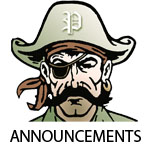 IF YOU'RE INTERESTED IN JOINING THE NEWSPAPER OR YEARBOOK STAFF NEXT YEAR,applications are available outside Mr. Heyman's room, B108, or online at PattonvilleTODAY.com.
ROOM CHANGE FOR AFTER-SCHOOL DETENTION TODAY:  After-school detention will not be held in the Cafeteria today, January 14.  If you are scheduled for detention today, report to the ISS room, G201, immediately after school.
THERE WILL BE NO SCIENCE CLUB MEETING
 after school today, January 14 due to the faculty meeting.
BASEBALL CLOTHING IS IN.
  If you ordered baseball clothing, please pick items up in Coach Hahn's room, H115.
ANY NEW STUDENTS INTERESTED IN PLAYING GOLF must see Coach Lingua in room G212 as soon as possible.  All current and new golfers, should attend a meeting during Contact Time Thursday, January 23 in Room G207B.
PALS APPLICATIONS FOR THE 2014-2015 SCHOOL YEAR ARE NOW AVAILBLE!  Current Sophomores and Juniors may apply.  Applications are available outside rooms B102, E201, and in the Guidance Office.  Please return completed applications to Mrs. Kuhn's mailbox no later than Tuesday, January 21.
ATTENTION CHESS CLUB MEMBERS:
  It is very important for you to attend Chess Club tomorrow, January 15 in preparation for the Pattonville Chess Tournament on Saturday, January 25.  
BOYS VOLLEYBALL OPEN GYM starts tomorrow, January 15 at 6:00pm in the upper gym.
COMMUNITY SERVICE OPPORTUNITY:  Remington Traditional School is having their Annual Fun Fair on Saturday, January 25 from 10am to 2pm.  Stop by the CSO to sign up or for more information before January 16.
KEY CLUB:  There will be a meeting next week on Tuesday, January 21 at 2:30 in Mrs. Gossett's room H217.  If you cannot attend, make sure to let a Key Club officer know ASAP!  Spread the word!
REMINDER:  THE PRICE OF A REPLACEMENT ID AND LANYARD IS NOW $4.00.  
THE WORD OF THE WEEK IS INFER
 (in·fer).  
Infer comes from Middle French inferrer, or from Latin inferred, literally, to carry or bring into.
"Based on the evidence, you can infer that smoking causes cancer".
Remember the Pirate Code.  Be Respectful.  Be Responsible.  Be Involved.
 TODAY'S ATHLETIC EVENTS:
Varsity Boys Basketball, away, against Riverview at 5:30.
JV Boys Basketball, away, against Riverview at 4:00.
Varsity Girls Basketball, away, against Oakville at 7:00.
JV Girls Basketball, away, against Oakville at 5:30.
Freshman Girls Basketball, away, against Oakville at 4:00.