Kampshroeder meets with senior class on Stop Day
PattonvilleTODAY staff
January 26, 2014
Hang on for a minute...we're trying to find some more stories you might like.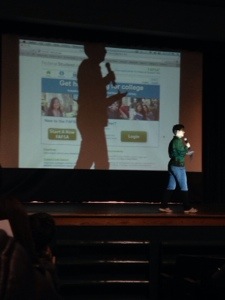 There is no wait-until-next-year for this group of seniors so while the the underclassmen were finalizing their 2014-2015 schedules in their Pirate Connections classes, the Class of 2014 met with college counselor Julie Kampshroeder to discuss college planning.
"Every year someone thinks an exception can be made with deadline dates," Kampshroeder said. "I am here to tell you there just can't be adjustments made."
Kampshroeder provided every student with a timeline with important dates and descriptions:
TODAY – See Ms. Leonard, senior counselor, if you need night school classes
February 14 – Ms. Kampshroeder's suggested due date for FAFSA completion
March 4 – A+ Night at FLO Valley 5:30-7 p.m.
April 9 – Evening meeting in the auditorium, 7 p.m. "How to Read Your Financial Aid Package"
April 11 – Community Service Honor Cord deadline. No late hours accepted.
May 1 – Tell 4 year collegs that you will/will not be attending (call, email)
May 2 – A+ tutoring hours are due by 2:20 p.m., All community service hours for graduation due in order to graduate.
May 28 – Senior Awards Night in the auditorium at 7 p.m., arrive 6 p.m. in Commons
May 29 – Graduation, 7 p.m.
On Valentine's Day, Kampshroeder said every student should have registered for the FAFSA.
"Don't just Google FAFSA. It will take you to a .com website and the guy will charge you $85 to complete the form," Kampshroeder said. "The FAFSA is free so make sure you go to FAFSA.ed.gov."
She added to complete the FAFSA early if money is needed because it is not guaranteed to be available and the pot does run out.
"The first time you hit send, that's the date that is locked into the computer," Kampshroeder said. "You can update it and that's fine but the first time you hit send, you are locked in with that early date."
Before signing up for the FAFSA, families must have a PIN number that can be obtained from PIN.ed.gov.
"If you want the computer to pick the numbers for you, you'll get it immediately," Kampshroeder said. "If you want to pick the numbers yourself, you'll have to wait a little while."
The May 1 deadline is important according to Kampshroeder because the money colleges have promised potential students can be returned to the school after this date.
"Any scholarship packages offered are good until May 1," Kampshroeder said. "On May 2, colleges can give that money to someone else."
Also on May 2, students must have all 50 community service hours turned in and verified in order to graduate.
"Don't play with those hours," Kampshroeder said. "Nobody graduates without getting their community service hours. Don't lie about them either because they are checked with the organization that you volunteer for."
Kampshroeder said there are many diplomas sitting in the guidance office because students did not complete the required number of hours of community service.
[portfolio_slideshow id=12966]