ANNOUNCEMENTS January 28, 2014
Hang on for a minute...we're trying to find some more stories you might like.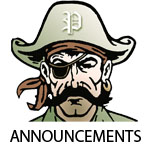 ATTENTION STUDENTS:  If you are interested in the career fields of Business Economics, Engineering and/or Science, you have an opportunity to meet with professionals from the Agricultural Business field to discuss career opportunities.  Please stop by Dr. Dobrinic's office to get more information.
THE ASVAB (MILITARY ENTRANCE TEST) will be given at PHS on Tuesday, March 11.  Sign up in Guidance or in the CSO.  See Mrs. Krohn for more info.
JUNIORS AND SENIORS:  Are you interested in studying an engineering career in college?  Boeing is offering a field trip for 8 to 10 students.  Activities include: visit the Prologue Room; a flight simulator demonstration; autonomous urban vehicle demonstration; F-15 structures test; visit a wind tunnel and a lab.  See Mrs. Mathis immediately, room B209 in the mornings or H213 in the afternoon, for paperwork.
THIS YEAR'S POLAR PLUNGE IS ON SATURDAY, FEBRUARY 22!  Raise at least $75 for Special Olympics Missouri, and take a dip into the freezing Creve Coeur Lake!  You can sign up during lunch starting next week, or go to 
http://somo.kintera.org/plungemh/pattonvillehighschool
 to join the school's team.  Make a team with other participants by getting a team signup sheet in the STUCO Store.
NAVY REPRESENTATIVES will be giving out information about college ROTC programs and how students who participate in college ROTC can benefit.  The presentation will be held today, January 28 after school in B213 at 2:20.
THERE WILL BE A BOYS SOCCER MEETING after school (2:20) today, January 28 in the G wing.
IF YOU ARE INTERESTED IN VOICING ONE OF THE CHARACTERS FOR ALEX WARREN'S ANIMATED SHORT FILM "THE PALADIN", auditions will be held today, January 28 and tomorrow, January 29 in Ms. Dornfeld's room, G104, beginning immediately after school on both days.  If you have any questions please see Ms. Dornfeld.
THERE WILL BE NO CARING FOR OTHERS after school today, January 28.
ATTENTION ALL NHS MEMBERS:  There is a meeting after school tomorrow, January 29 in Mrs Schwendemann's room.  We will be making our final plans for Saturday's Valentine's Day Brunch. This will be your last chance to turn in your donation.
ATTENTION STUDENTS INTERESTED IN TAKING AN AP CLASS OR COLLEGE CREDIT CLASS:  Make plans to attend the AP/College Credit Parent Info Night tomorrow, January 29 at 6:30pm in the main gym.
COLLEGE REP. VISITS:  MISSOURI WESTERN will be here tomorrow, January 29 at 9:30am.  To sign up and get a pass, please see Mrs. Patrick in the Guidance Office.  See the posted list in the Guidance Office for a complete listing of upcoming college rep. visits.
JSU IS FRIENDS, FOOD, AND FUN!  Come to the JSU meeting this Thursday, January 30 right after school at 1:15pm in Mrs. Greenberg's Room, D114, for FREE PIZZA and AWESOME CONVERSATION.  FRIENDS, FOOD, FUN – CHECK OUT JSU this Thursday.
ANIME CLUB will meet next Tuesday, February 4.  Members should remember to bring club dues of $15 to the meeting.
THE WORD OF THE WEEK IS MAGNITUDE (mag ni tood).  Magnitude comes from the Latin word "magnus", which means great.  Other words and phrases related to magnus are magnificent, magnify, magnanimous, and summa cum laude.
PIRATE CODE INCENTIVES JANUARY 27-31:
Weekly Winner- $5 QT Gift Card
Attendance Games Winner- $10 STUCO Bucks
WINNERS TO BE ANNOUNCED ON FRIDAY!!!!
Remember the Pirate Code.  Be Respectful.  Be Responsible.  Be Involved.  
TODAY'S ATHLETIC EVENTS:
Varsity Girls Basketball, home, against Ft. Zumwalt North at 6:00pm.
JV Girls Basketball, home, against Ft. Zumwalt North at 4:30.