The verdict is in: Frazier chooses teaching
Hang on for a minute...we're trying to find some more stories you might like.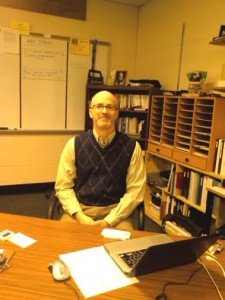 James Frazier said the best part about it is the "do-over."
The high school debate teacher has only been a teacher in the Pattonville School District for two years but he has enjoyed his time in classroom so far.
Frazier has been an excellent resource for the teachers in the English department as well as for students who want to be future lawyers.
"I completed five years in each occupation, and sat down and thought about it," Frazier said. "I asked myself which job did I enjoy more."
The choice Frazier made is obvious to his students.
He is now a dedicated teacher at Pattonville and though he definitely misses pieces from his job as a lawyer, he is happy with his decision.
"I definitely miss the people I worked with," Frazier said. "They were outstanding people who cared about their clients at the Public Defenders Office."
The most anticipated question throughout this interview was "If the opportunity arose, would you go back?"
Frazier chuckled at the thought.
"Not now," he said. "The opportunity actually is there, but no, not anytime soon."
There is obviously a reason Frazier chose to teach instead of be a lawyer.
"I would say the best part is seeing kids develop over the years and not just having one year with them," Frazier said. "I like the do-over teachers get every year."
Every teachers' answer is different when asked what is the best thing  they can walk away with at the end of a semester of teaching.  Frazier's is definitely a unique response.
"To see students speak," Frazier said. "By the end of my class, students find their voice and are able to argue with anyone. I see it as creating democratic citizens."
Which, as actually being a student of Frazier, is indeed true.  Students do find their voice in his class.
Last but certainly not least, Frazier was asked what advice did he have for future law pursuers, like myself.
"Definitely know what area of law you want to practice and pursue that area," said Frazier, who practiced criminal defense law.