ANNOUNCEMENTS February 3, 2014
Hang on for a minute...we're trying to find some more stories you might like.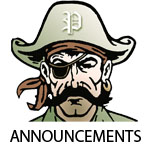 ATTENTION STUDENTS:  As we move along into second semester, please keep track of your attendance.  Good attendance is a critical part of being successful in school and in life.  In addition, students who do not attend school at a 90% rate will not park on the lot, attend prom or other dances, and are at risk of not earning credit for the semester.
STUDENTS:  Be reminded, during lunch you should only be in the cafeteria, commons, or gym lobby.  You are not permitted to roam the halls or visit your locker.
LUNCH ALERT:  THE CONCESSION STAND IN THE STUDENT COMMONS WILL NOT BE OPENduring lunches today, Feb. 3.
ATTENTION BSAAC MEMBERS:  Please do not forget to attend the meeting 5th hour today, Feb. 3 in B104.
STUDENT QUEST will meet after school today, February 3 in room E209.
CARING FOR OTHERS will meet after school today, February 3 in room E203.
ANIME CLUB will meet tomorrow, February 4 after school.  Members should remember to bring club dues of $15 to the meeting.
COLLEGE REP. VISITS:  International Academy of Cosmetology will be here Wednesday, February 5 at 10:00am.  To sign up and get a pass, please see Mrs. Patrick in the Guidance Office.  See the posted list in the Guidance Office for a complete listing of upcoming college rep. visits.
ALL ACTORS AND ANIMATORS INTERESTED IN PARTICIPATING IN THE MAKING OF SENIOR ALEX WARREN'S ANIMATED SHORT FILM "THE PALADIN", please come to a brief planning meeting in Ms. Dornfeld's room this Thursday, February 6 in room G104 immediately after school.  If you have questions, please see Ms. Dornfeld.
THE POLITICS CLUB will be meeting during Contact Time in Ms. Scoopmire's room….D208 on Thursday, Feb. 6.
BASEBALL MEETING:  There will be a very important meeting for anyone wanting to tryout for baseball this spring on Thursday, Feb. 6 during Contact Time in the multipurpose room.  If you cannot attend, please see Coach Hahn or Coach Simpson as soon as possible.
THE WORD OF THE WEEK IS MALIGN (ma – line).   It is a verb, and means to speak about someone or something in a spiteful or critical manner, often unfairly.
Don't you dare malign my sister in my presence!
PIRATE CODE INCENTIVES FEBRUARY 3-7
Weekly Winner- $5 Steak n Shake
Attendance Games Winner- $10 STUCO Bucks
WINNERS TO BE ANNOUNCED ON FRIDAY!!!!
Remember the Pirate Code.  Be Respectful.  Be Responsible.  Be Involved.  
TODAY'S ATHLETIC EVENTS:
Varsity Girls Swimming, home, against Hazelwood West at 4:00.
Varsity Girls Basketball, home, against Parkway Central at 6:00pm.
JV Girls Basketball, home, against Parkway Central at 4:30.
9th Boys Basketball Tournament:
  Pattonville vs Northwest at 4:00