Key Club sponsors upcoming blood drive on Feb. 14
Hang on for a minute...we're trying to find some more stories you might like.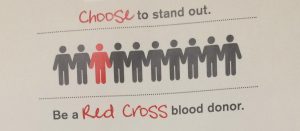 On Friday, Feb. 14, Pattonville High School will provide students with a unique chance to save lives within the community.
The high school's Key Club, an organization that takes on many service projects throughout the year, will be sponsoring a school-wide blood drive to benefit the American Red Cross.
According to Ms. Lisa Shah, co-sponsor of Pattonville's Key Club, all students ages 16 and older may volunteer to have blood drawn. However, all 16-year-old volunteers must have their parents fill out a consent form in order to participate. Sign-ups will take place from Feb. 10-12 during all lunch periods.
"The Red Cross is always looking for donors, especially the universal donors with [blood type] O negative,"  Shah said. "Their supply has been low lately so they're looking for lots of people."
The actual blood drive will begin at 7:30 a.m. on Friday and will conclude at 1:30 p.m.
Students may sign up for any time that fits their schedule, but Shah highly recommends that all volunteers eat a healthy breakfast with "plenty of protein."
"Giving blood is an easy way to give back to the community," Shah said. "It's relatively painless and you get to save someone's life. That's pretty awesome."