ANNOUNCEMENTS February 7, 2014
Hang on for a minute...we're trying to find some more stories you might like.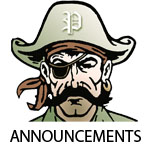 ATTENTION STUDENTS:  As we move along into second semester, please keep track of your attendance.  Good attendance is a critical part of being successful in school and in life.  In addition, students who do not attend school at a 90% rate will not park on the lot, attend prom or other dances, and are at risk of not earning credit for the semester.
MYTIE DANCE TICKETS are on sale this week at all lunches. Tickets are $5 for the dance or $8 if you also buy a Mr. PHS ticket.  All fines must be paid and you must have 90% attendance.
THE BAND SOLO AND SMALL ENSEMBLE OPEN HOUSE EVENT IS CANCELED FOR TONIGHT, FEBRUARY 6.  Please notify all members of your group and contact your accompanist.
STUDENTS:  Be reminded, during lunch you should only be in the cafeteria, commons, or gym lobby.  You are not permitted to roam the halls or visit your locker.
SOPHOMORES/JUNIORS, WITH A 3.0/4.0 GPA, INTERESTED IN A ONE-MONTH PHARMACY SUMMER PROGRAM AT WALGREENS should see Ms. Kampschroeder in the College Center for an application.  You must have your OWN TRANSPORTATION and be 16 or older.  The deadline is March 7.
COLLEGE BOOT CAMP SESSION FOR JUNIORS will be held today, February 6 after school in the

College Center

 at 1:15 pm.  The topic is how to create the College Resume.  Bring your laptop!
PHYSICAL EXAMS are being offered on February 13 from 4-6:30pm at Advanced Training and Rehab (12108 St. Charles Rock Road next to Deals).  Please sign up in the PHS Activities Office.  Cost is $25 cash or check payable to Advanced Training and Rehab.
WE ARE CURRENTLY LOOKING FOR STUDENTS TO TEACH SWIM LESSONS to our Pattonville middle and elementary students at the Pattonville Aquatic Complex.  Classes begin March 3 and are held on Mondays and Wednesdays 3:45-5:30pm.  If interested, please email Patty Gould at 

[email protected]
COLLEGE REP. VISITS:  
UMKC will be here today, February 6 at noon.
To sign up and get a pass, please see Mrs. Patrick in the Guidance Office.  See the posted list in the Guidance Office for a complete listing of upcoming college rep. visits.
THIS YEAR'S POLAR PLUNGE IS ON SATURDAY, FEBRUARY 22!  Raise at least $75 for Special Olympics Missouri, and take a dip into the freezing Creve Coeur Lake!  You can sign up during lunch this week, or go to 
http://somo.kintera.org/plungemh/pattonvillehighschool
 to join the school's team.  Make a team with other participants by getting a team signup sheet in the STUCO Store.
TUNE IN TO PIRATE TV AT 9AM for a brand new episode of PIRATE AYE!  A new podcast is available on iTunes for those with projectors.
CONTACT TIME MEETINGS FOR TODAY, FEBRUARY 6:
REMINDER:  LAWYER MICHAEL HODGE will be speaking in room B104 today during Contact Time.

THE POLITICS CLUB will be meeting in Ms. Scoopmire's room….D208.

BASEBALL MEETING:  There will be a very important meeting in the Multi-Purpose Room for anyone wanting to tryout for baseball this spring.  If you cannot attend, please see Coach Hahn or Coach Simpson ASAP.
THE KNITTING CLUB will meet in Ms. Mulanax's room, E206.
ALL BOYS INTERESTED IN PLAYING VOLLEYBALL THIS SPRING should attend a meeting in the upper gym.
MAC will meet in room D205.

THERE WILL BE AN INFORMATIONAL WATER POLO MEETING in Mr. Christian's room, D203.
THERE WILL BE A DECA MEETING in room B212.
SPANISH CLUB is meeting in Mr. Shaw's room, H114.  If you would like a Spanish club T-shirt, all money for orders is due by tomorrow.
SAILING CLUB MEMBERS need to see Ms. O'Keefe briefly in room D112.

THE INTERNATIONAL CLUB will meet in Room B107.
THERE IS NO CARING FOR OTHERS MEETING DURING CONTACT TIME TODAY.  CFO members thatpreviously signed up for the 8th grade assembly need to make sure they pickup their permission slip in E203.
ALL ACTORS AND ANIMATORS INTERESTED IN PARTICIPATING IN THE MAKING OF SENIOR ALEX WARREN'S ANIMATED SHORT FILM "THE PALADIN", please come to a brief planning meeting in Ms. Dornfeld's room today, February 6 in room G104 immediately after school.  If you have questions, please see Ms. Dornfeld.
COMMUNITY SERVICE ANNOUNCEMENT:  Community Service Scholarship applications are now in the Community Service Office, E200.  Applications are available for SENIORS who have a minimum of 200 hours community service on record and who plan to attend a college, university or accredited technical school for the 2014-2015 school year.
COLLEGE BOUND SENIORS, who are still looking for a 4-year college to attend next year, are invited to the Infinite Scholars Program on Saturday, February 22 from 9am -12pm at UMSL.  Go towww.infinitescholar.org for specific details and what to bring with you.
THE WORD OF THE WEEK IS MALIGN (ma – line).   Some synonyms for malign are slander, libel, disparage, and denigrate.  Some antonyms are praise and extol.
Here are some ways to use malign in a sentence:
You shouldn't malign someone who is your friend.
The critic maligned the movie when he said that the acting and writing were horrendous.
Some people malign politicians, but don't try to offer solutions.
Remember the Pirate Code.  Be Respectful.  Be Responsible.  Be Involved.  
COLLEGE REP. VISITS:  
SEMO will be here today, February 6 at 8:00am.
To sign up and get a pass, please see Mrs. Patrick in the Guidance Office.  See the posted list in the Guidance Office for a complete listing of upcoming college rep. visits.
PIRATE CODE INCENTIVES FEBRUARY 3-7
Weekly Winner- $5 Steak n Shake
Attendance Games Winner- $10 STUCO Bucks
WINNERS TO BE ANNOUNCED ON FRIDAY!!!!
TODAY'S ATHLETIC EVENTS:
Freshman Boys Basketball in the PHS Tourney at PHS (main gym) against CBC at 4:00.