Pattonville is alive with The Sound of Music
Hang on for a minute...we're trying to find some more stories you might like.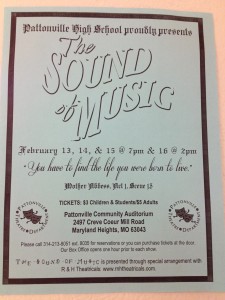 Four months of hard work and daily rehearsals is finally paying off for many Pattonville students as this year's winter musical, The Sound of Music, opens tonight and runs through this weekend.
The Sound of Music tells the story of Maria, a young woman who becomes the caretaker of seven children in 1930s Austria. During her time spent with the seven children, Maria discovers the woman she was meant to be.
Madison Farrar, stage manager of the musical, said viewers should expect to see lots of nuns, Nazis, fun dance numbers, and many talented and dedicated performers.
According to Farrar, "Everyone would enjoy this musical, but especially people who love theatre and music. There's something in it for everybody."
Although Farrar will not be performing in the production, as the overseer of the show, she is excited for the upcoming weekend. She said she is most excited for "people to see all of our hard work come together into such a great show."
On Wednesday, Feb. 12, the musical was performed during the school day for Pattonville elementary school students.
The production will be performed for the public starting Thursday evening, Feb. 13, at 7 p.m., followed by another 7 p.m. performance on Friday and Saturday evening. A 2 p.m. matinee show will be performed on Sunday, Feb. 16.