ANNOUNCEMENTS February 13, 2014
Hang on for a minute...we're trying to find some more stories you might like.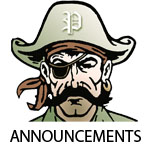 COME SEE THE PIRATE PLAYERS' PRODUCTION OF 
THE SOUND OF MUSIC
 tonight, tomorrow night, and Saturday night at 7pm and Sunday at 2pm.  Tickets are $3 for kids/students and $5 for adults and can be purchased at the Box Office, which opens one hour before each show.  We hope you are able to see the hills come alive this weekend in the Pattonville auditorium!
9TH GRADE STUDENTS, who have a 2.5 GPA or higher and have transportation to attend a summer college program, PLEASE REPORT TO THE GYM DURING PIRATE CONNECTIONS TODAY, FEBRUARY 13.  A speaker will be on campus to describe a summer program to you.
CONGRATULATIONS TO ALL STUDENTS WHO EARNED A TICKET TO THE RENAISSANCE IMPROVEMENT LUNCHEON!  To qualify, students raised their grades by .5 from second semester last year to first semester this year.  Bring your ticket to the back of the cafeteria today for your delicious Italian luncheon!
NEED MORE FRIENDS, FOOD, AND FUN IN YOUR LIFE?  Come to the JSU meeting today, February 13 right after school at 1:15pm. in Mrs. Greenberg's room, D114.  Enjoy FREE PIZZA and AWESOME CONVERSATION with some INSPIRATIONAL PEOPLE.  See you at JSU today.
THERE WILL BE A PIRATE PRIDE MEETING today, February 13 after school in room D209.
THE COMMUNITY SERVICE CLUB WILL BE RECYCLING TODAY, February 13 after school.
STAFF:  Please place your recycling containers in the hallway after school.
A+ TUTORS:  A tutor is needed at Heights Middle School on Mondays from 3-5 and on Thursdays after PHS dismissal. See Mrs. Krohn if you are interested.
COLLEGE REP. VISITS:  WEBSTER UNIVERSITY will be here tomorrow, February 14 at 10:00am.
To sign up and get a pass, please see Mrs. Patrick in the Guidance Office.  See the posted list in the Guidance Office for a complete listing of upcoming college rep. visits.
ATTENTION STUDENTS:  As we move along into second semester, please keep track of your attendance.  Good attendance is a critical part of being successful in school and in life.  In addition, students who do not attend school at a 90% rate will not park on the lot, attend prom or other dances, and are at risk of not earning credit for the semester.
COMMUNITY SERVICE OPPORTUNITIES:
PARKWAY SWIM CLUB will be hosting a Championship Swim Meet at the PHS Aquatic Center on Friday, February 21 beginning at 4:30pm, Saturday, February 22 beginning at 8:30am (2 sessions available) and Sunday, February 23 beginning at 8:30am (2 sessions available).  This event depends on many volunteers with the timing of races.  All students are welcome; no experience is necessary as training will be provided.  If interested, stop in the Community Service Office immediately to sign the volunteer schedule.
HOLMAN MUSIC DEPARTMENT needs 5 volunteers for the Orchestra Concert on Thursday, Feb. 27.  Meet in the Holman Cafeteria at 5:30pm to help with refreshments.  Sign up immediately in the CSO.
THE WORD OF THE WEEK IS PARADIGM (pear-ah-dime).  Here is how to use it in a sentence:  The technology paradigms changed dramatically when the Moodle came along.
Remember the Pirate Code.  Be Respectful.  Be Responsible.  Be Involved.  
STUDENTS:  Are you interested in finding more out about STEM (Science, Technology, Engineering, andMath) careers?  A PHS graduate, that is currently working as an engineer at Boeing, will be here 1st and 2nd hours on Tuesday, February 18 discussing STEM careers.  There will also be a Saint Louis Community College representative discussing STEM classes and majors.  See Mrs. Mathis in B209 or H213 for a permission slip.
T-SHIRTS TO BENEFIT THE ST. BALDRICK'S FOUNDATION are being sold through February 19.  Pattonville is trying to raise $20,000 to help fund vitally needed research for childhood cancers.  All t-shirt sales help us get closer to our goal.  Order forms are available in all offices and the STUCO store.  Return order forms with payment to Mrs. Kathriner in G108.  "BE BRAVE AND SHAVE PIRATE NATION".
WE ARE CURRENTLY LOOKING FOR STUDENTS TO TEACH SWIM LESSONS
 to our Pattonville middle and elementary students at the Pattonville Aquatic Complex.  Classes begin March 3 and are held on Mondays and Wednesdays 3:45-5:30pm.  If interested, please email Patty Gould at 
[email protected]
ALL JUNIORS WHO ARE PLANNING ON APPLYING TO A 4-YEAR COLLEGE THIS FALL should take the April 12 ACT test.  The deadline to sign up is March 7.  See Ms. Kampschroeder in the College Center,BEFORE school, if you are eligible for a Fee Waiver.
SENIORS:
  Only 50 students have completed their FAFSA forms to date.  If you need 
Financial Aid to attend college in the fall,
 you MUST fill out this form online at 
www.fafsa.gov as soon as possible!  
Sarah Fieser is in the College Center on Tuesdays from 8:15-2:30pm if you have any questions on the FAFSA.
STUDENTS INTERESTED IN EDUCATIONAL SUMMER PROGRAMS
 should check out
www.usummer.com
 for programs all over the country.
PIRATE CODE INCENTIVES FEBRUARY 10-14
Weekly Winner – $5 Steak n Shake
Attendance Games Winner – $10 STUCO Bucks
WINNERS TO BE ANNOUNCED ON FRIDAY!!!!
TODAY'S ATHLETIC EVENTS:
Varsity Boys Basketball, home, against Hazelwood East at 6:00pm.
JV Boys Basketball, home, against Hazelwood East at 4:30.
Freshman Boys Basketball, home, against Hazelwood East at 4:00.
Varsity Girls Basketball, away, against Hazelwood East at 5:30.
JV Girls Basketball, away, against Hazelwood East at 4:00.
Freshman Girls Basketball, away, against Hazelwood East at 5:00.