ANNOUNCEMENTS February 19, 2014
Hang on for a minute...we're trying to find some more stories you might like.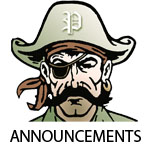 STUDENTS PLANNING ON TAKING AP EXAMS IN MAY
 need to register online starting tomorrow, February 20.  Theregistration site is 
www.TotalRegistration.net/AP/262575
  (a link to this site can be found on the high school page).
THE PTO SCHOLARSHIP WAS ESTABLISHED TO HELP PATTONVILLE SENIORS
 with the financial burdens associated with their post-high school education.  Get your free application & details in the PHS College Center, located in the Student Commons, or online at the PTO website.  Completed applications should be returned to Julie Kampschroeder in the PHS College Center by April 1, 2014.    (
http://classrooms.psdr3.org/education/club/club.php?sectiondetailid=28002&
)
COLLEGE BOUND SOPHOMORES, WITH A 2.5 GPA OR HIGHER AND WHO ARE ON THE FREE/REDUCED LUNCH PROGRAM, may see Ms. Kampschroeder in the College Center for information on a free college prep summer program.
AFTER VALENTINE'S DAY SALE:  $5 off all apparel in the STUCO Store.  Gift cards are coming soon!
ART CLUB WILL MEET after school today, February 19 in room G108.
JUMPS CONDITIONING will be held in Coach Lamb's room today, February 19.  Please show up quickly after school to room F116.
THERE WILL BE AN OPEN GYM FOR BOYS VOLLEYBALL tonight, February 19 from 7:30 – 9:00pm in the upper gym.
THE FIRST ATTENDANCE GAME COMPETITION HAS ARRIVED!  Come cheer the daily attendance qualifiers at the Varsity basketball game tonight, February 19, as they compete during half-time for a $50 gift card of their choosing!!
ATTENTION ATTENDANCE GAMES QUALIFIERS!!!  If you are planning to attend the Basketball game tonight, please remember to bring your ID and invitation to the game.
OUR ST. BALDRICKS TEAM IS OFF TO A TREMENDOUS START with 36 team members and we are halfway to our goal of $20,000.  As a result of the snow days, the due date to join the team as a shavee or hair donation and raise funds, has been extended till Friday, February 21.  Pick up a permission form from outside the Activities Office or room G114 and return it to Mr. Fader to signup.
DON'T FORGET, YOU CAN STILL ORDER A ST. BALDRICKS T-SHIRT through today, February 19.  All proceeds from the t-shirt sales go to St. Baldricks and helps to fund research to fight childrens cancers.  Order forms are available in all offices and the STUCO store.  Return order forms, with payment, to Mrs. Kathriner in room G108.
"BE BRAVE AND SHAVE PIRATE NATION"
THE OUTDOOR ADVENTURE FIELD TRIP TO HIDDEN VALLEY FOR TOMORROW, FEBRUARY 20 HAS BEEN CANCELED due to unfavorable skiing conditions.
THE MINORITY ACHIEVEMENT CLUB (MAC) will meet tomorrow, February 20 during Contact Time in room D205.
ALL BOYS INTERESTED IN PLAYING GOLF THIS YEAR, should attend the Golf Team meeting in room G207B, in the Positive School hallway, tomorrow, February 20 during Contact Time.  This is for all returning golfers and new golfers as well.  Anyone not able to attend this meeting should make arrangements to meet with Coach Lingua as soon as possible to receive information on the start of practice.
ANY SPANISH OR GERMAN STUDENTS interested in travel abroad in June 2015, come to the informational meeting tomorrow, February 20 during Contact Time in Ms. Ewig's room, H106.
THE KNITTING CLUB WILL MEET during Contact Time in Ms. Mulanax's room, E206, tomorrow, February 20.  Please get a pass ahead of time from Ms. Mulanax!
JUNIORS & SENIORS INTERESTED IN THE MILITARY:  Recruiters from all branches will be in the cafeteria during Contact Time tomorrow, February 20 to answer any questions.  The ASVAB test will be Tuesday, March 11 at PHS.  Sign up in the CSO.
TRACK WILL HAVE A SHORT MEETING during Contact Time in the main gym tomorrow, February 20.  If you are planning on running track this year then you need to be in attendance or have spoken to Coach Simmons or Coach Lamb ahead of time.  Also, see Coach Simmons or Coach Lamb for a pass.
THE SCHOLAR BOWL TEAM WILL MEET in Mrs. Hoeft's room during Contact Time tomorrow, February 20 to make arrangements for our tournament on Saturday.
FEA WILL MEET in room E210 during Contact Time tomorrow, February 20.
WATER POLO TRYOUTS will be on Monday, February 24 after school in the pool.
THE WORD OF THE WEEK IS PASSIVE (pas-sive).  The origin of the word is Latin derived from the root word passvus literally, submissive, equivalent to pass.  The word was first used in the late 1300's.
Remember the Pirate Code.  Be Respectful.  Be Responsible.  Be Involved.  
COLLEGE REP. VISITS:  COLUMBIA COLLEGE will be here today, February 19 at 8:30am.
To sign up and get a pass, please see Mrs. Patrick in the Guidance Office.  See the posted list in the Guidance Office for a complete listing of upcoming college rep. visits.
CONGRATULATIONS TO THE PATTONVILLE VARSITY DRILL TEAM!  The girls earned 2nd place in the state in 5A pom, 2nd place in the state in 5A hip hop, and 3rd place overall.  This is the fifth year in a row the girls have finished in the top 3 in the State – great job!  The Varsity Drill Team is coached by Katie Funderburk.
DECA – CONGRATULATIONS TO THE FOLLOWING STUDENTS WHO PLACED AT THE DECA
DISTRICT COMPETITION AND WILL MOVE ON TO STATE IN MARCH.
Business Law and Ethics Team– Sydney Cicero & Nathan Samples-1ST PLACE
Marketing Communications Team– Lindsey Purviance & Brendan Schaffer-1ST PLACE
Business Finance- Tim Vleisides – 1ST PLACE
Leadership Delegate– Azim Djuraev- 1ST PLACE
Business Services Marketing– Azim Djuraev- 2ND PLACE
Travel and Tourism Marketing– Anastasia Jackson & Lauren Robinson- 2ND PLACE
Human Resource Management– Connor Klenke- 2ND PLACE
Food Marketing– Mariah Kirby- 3RD PLACE
Business Services– Lauren Frazier- 4TH PLACE
Hotel and Lodging Management– BriElle Ragland- 4TH PLACE
TODAY'S ATHLETIC EVENTS:
Varsity Girls Basketball, home, against Hazelwood Central at 6:00pm.
JV Girls Basketball, home, against Hazelwood Central at 4:30.
Freshman Boys Basketball, away, against Kirkwood at 4:00.