ANNOUNCEMENTS February 20, 2014
Hang on for a minute...we're trying to find some more stories you might like.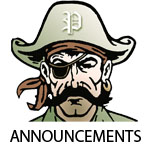 ATTENTION STUDENTS:
  If you are not in a winter sport, participating in a supervised activity, or plan to attend tutoring youshould go home immediately after school is dismissed.  Students are not allowed to roam the halls, hang out in the commons or front lobby, or use the stadium or other athletic fields without supervision.
Disciplinary consequences, including the loss of future after school privileges, will be assigned to individuals who do not comply with the rules.
THE OUTDOOR ADVENTURE FIELD TRIP TO HIDDEN VALLEY FOR TODAY, FEBRUARY 20 HAS BEEN CANCELED due to unfavorable skiing conditions.
STUDENTS PLANNING ON TAKING AP EXAMS IN MAY
 need to register online starting today, February 20.  The registration site is 
www.TotalRegistration.net/AP/262575
  (a link to this site can be found on the high school page).
THE ASVAB TEST will be given on Tuesday, March 11 at PHS.  Juniors & Seniors interested in the military should sign up in the CSO.
THE PTO SCHOLARSHIP WAS ESTABLISHED TO HELP PATTONVILLE SENIORS
 with the financial burdens associated with their post-high school education.  Get your free application & details in the PHS College Center, located in the Student Commons, or online at the PTO website.  The completed application should be returned to Julie Kampschroeder in the PHS College Center by April 1, 2014.  (
http://classrooms.psdr3.org/education/club/club.php?sectiondetailid=28002&
)
CONTACT TIME MEETINGS FOR TODAY, FEBRUARY 20:
MAC will meet in room D205.
ALL BOYS INTERESTED IN PLAYING GOLF THIS YEAR, should attend the Golf Team meeting in room G207B, in the Positive School hallway.
SPANISH OR GERMAN STUDENTS interested in travel abroad in June 2015, come to the informational meeting in Ms. Ewig's room, H106.
THE KNITTING CLUB WILL MEET in Ms. Mulanax's room, E206.
TRACK WILL HAVE A SHORT MEETING in the main gym.  If you are planning on running track this year then you need to be in attendance or have spoken to Coach Simmons or Coach Lamb ahead of time.
THE SCHOLAR BOWL TEAM WILL MEET in Mrs. Hoeft's room to make arrangements for the tournament on Saturday.
FEA WILL MEET in room E210.
JUNIORS & SENIORS INTERESTED IN THE MILITARY:  Recruiters from all branches will be in the cafeteria during Contact Time to answer any questions.
BOYS INTERESTED IN PLAYING TENNIS THIS SPRING should meet in Coach Patrick's room, D209.
MANDATORY GIRLS SOCCER MEETING in the Fitness Room upstairs.  All soccer players who plan on trying-out, must attend!!!!
THE INTERNATIONAL CLUB WILL MEET in room B107.  We will rehearse after school today in G101.
CATCH A BRAND NEW EPISODE OF PIRATE AYE, today at 9am!
THERE WILL NOT BE A RENAISSANCE MEETING TODAY.  However, if you have not signed up for Taste of Pattonville and you are planning to work at the event, see Mrs. Moritz before the end of the day today.
PLEASE JOIN THE PIRATE CODE LEADERSHIP TEAM IN WELCOMING OUR 19 NEW STUDENTS to the Pattonville School District this semester.  These students have been invited to participate in our new student group during Contact Time today, February 20.
OUR ST. BALDRICKS TEAM IS OFF TO A TREMENDOUS START with 36 team members and we are halfway to our goal of $20,000.  As a result of the snow days, the due date to join the team as a shavee or hair donation and raise funds, has been extended til tomorrow, February 21.  Pick up a permission form from outside the Activities Office or room G114 and return it to Mr. Fader to signup.
AFTER VALENTINE'S DAY SALE:  $5 off all apparel in the STUCO Store.  Gift cards are coming soon!
THE WORD OF THE WEEK IS PASSIVE (pas-sive).  Passive is an adjective in the following example; "Teachers encourage students to be active and assertive instead of passive and inactive in class discussions."
Remember the Pirate Code.  Be Respectful.  Be Responsible.  Be Involved.  
WATER POLO TRYOUTS will be on Monday, February 24 after school in the pool.
TODAY'S ATHLETIC EVENTS:
Varsity Girls Basketball, home, against McCluer at 6:00pm.
JV Girls Basketball, home, against McCluer at 4:30.
Varsity Boys Basketball, away, against McCluer at 5:30pm.
JV Boys Basketball, away, against McCluer at 4:00.