Dale Jr. joins Twitter
Hang on for a minute...we're trying to find some more stories you might like.
On Feb. 23, Dale Earnhardt Jr. captured his second career victory at the Daytona 500 race. He celebrated by joining the Twitterverse. His first tweet: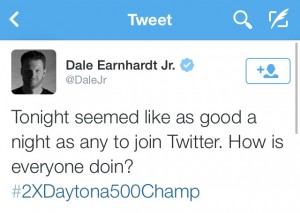 And he also attached this photo:
It seems as though Earnhardt Jr. created his Twitter for personal use, as many athletes and public figures use their Twitter accounts for business and organizational purposes.
He then followed up his Daytona trophy selfie with another selfie:
And then attached this photo:
Earnhardt Jr. sent out his first tweet on Feb. 24 at 1:32 a.m. and has gained 350,000 followers and counting since his arrival into the Twitterverse.