Cold Reads prepare students for EOC
Hang on for a minute...we're trying to find some more stories you might like.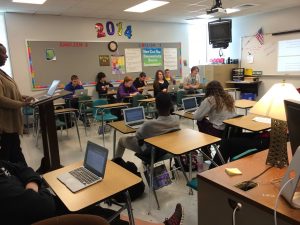 Focused students in Ms. Odetta Fields' 2nd hour English class answer eight comprehension questions independently on a Cold Read after reading two short stories. The students worked in a quiet environment in order to prepare themselves for the upcoming-End-of-Course exam.
According to Fields, the Cold Reads give students a chance to practice reading an unfamiliar text.
"The Cold Reads give students an opportunity to practice reading an unfamiliar text and answer the questions afterward," Fields stated.
Not only do the students learn a lot from the Cold Reads, the teachers part of the English 2 data team learn things from it also.
"I get to understand the areas where they need more work," Fields explains.
Fields gave some advice on how to reach the goal of earning a score of proficient or advance on the EOC.
"Without reading independently and doing the assignments that correspond with the EOC, it's just not going to work," Fields said.
The EOC is scheduled to be given to students in late April-early May with exact dates to be specifically assigned per class and department soon. A full calendar will be posted when available.