ANNOUNCEMENTS Thursday February, 27
Hang on for a minute...we're trying to find some more stories you might like.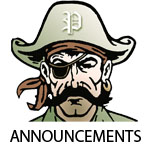 A CELEBRATION OF BLACK HISTORY:  A famous and inspiring quote from Dr. Martin Luther King, Jr. is, "Life's most persistent and urgent question is, "What are you doing for others?"  Come to the Black History Month Presentation today, Feb. 27 from 2:30-4:00pm in the PHS Auditorium where we will honor the past, present & future role models.
SWING BY THE COVE (STUCO STORE)
 to check out the new apparel today.
COLLEGE BOUND JUNIORS
:  
The next
 College Boot Camp
 session in the 
College Center
 will be today, February 27 
from 1:15-2:15
 on how to have a successful 
College Visit.  
You do not need to sign up.  Bring your laptop.
NEED MORE FRIENDS, FOOD, AND FUN IN YOUR LIFE?
  Come to the JSU meeting today, February 27 right after school at 1:15pm in Mrs. Greenberg's room, D114.  Enjoy FREE PIZZA and AWESOME CONVERSATION with some INSPIRATIONAL PEOPLE.  See you at JSU today!
THERE WILL BE A BRIEF TENNIS MEETING
 in Coach Patrick's room (D209) today, February 27 after school.  If you are unable to attend, please see Coach Patrick sometime prior to the meeting.
THE COMMUNITY SERVICE CLUB WILL MEET today, February 27 after school in room D205.
RECYCLING, by the Community Service Club, HAS BEEN CANCELLED FOR TODAY, February 27.  The next recycling date is Thursday, March 13.  The Community Service Club will still meet in Mrs. Cobb's room after school.
WASHINGTON UNIVERSITY FIELD TRIP FORMS are due in Dr. Hilker's room (H110) tomorrow, February 28; if you are planning to attend, please turn them in right away.
ATTENTION STUDENTS:  If you are not in a winter or spring sport, participating in a supervised activity, or plan to attend tutoring you should go home immediately after school is dismissed.  Students are not allowed to roam the halls, hang out in the commons or front lobby, or use the stadium or other athletic fields without supervision. Disciplinary consequences, including the loss of future after school privileges, will be assigned to individuals who do not comply with the rules.  
THE WORD OF THE WEEK IS PERSPECTIVE (per·spec·tive).  Perspective doesn't have any antonyms. Therefore, this week we will have same day synonyms which include angle, outlook, viewpoint, and vantage point.
Remember the Pirate Code.  Be Respectful.  Be Responsible.  Be Involved.  
THIS IS AN A, A, A, C, B WEEK.  (Dismissal times are the same as normal; no changes were made.)
LOOKING TO GET INVOLVED NEXT YEAR?  Join Student Council and be a leader.  STUCO application forms can be found in the Activities office and the STUCO store.  Forms are due Monday, March 3
ALL STUDENTS INTERESTED IN GOING ON THE GERMANY OR ECUADOR TRIP, please turn in your parent permission slip to Mr. Shaw or Ms. Ewig by tomorrow, February 28.
COMMUNITY SERVICE ANNOUNCEMENT:  Maryland Heights Safety Town applications for Summer 2014 are available in the Community Service Office.
COMMUNITY SERVICE OPPORTUNITY:  6th Annual Trash Bash, Saturday, March 15 from 8:30am – Noon.  One of the sites of clean-up this year will be the Bridgeton area.  Gathering place will be at the Bridgeton Municipal Complex (BMAC), 12312 Ferguson Lane, where assignments will be given.  Lunch and celebration will follow clean-up.  Come to the Community Service Office for more information.