ANNOUNCEMENTS March 5, 2014
PattonvilleTODAY staff
March 5, 2014
Hang on for a minute...we're trying to find some more stories you might like.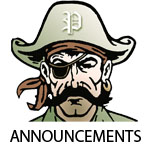 THE ACTIVITY BUSES WILL RUN ONLY AT 4:15PM TODAY, MARCH 5 AND TOMORROW, MARCH 6due to Parent/Teacher Conferences.  The 5:30 activity bus run is cancelled for both days.
ATTENTION STUDENTS:  The Pirate Connections planning team is seeking your input on a name change for next year.  Please log onto the Moodle between now and March 17 to vote for one of the names listed.  You may also submit your own name suggestion(s) through the Moodle.  
MAC TALENT SHOW PARTICIPANTS are asked to sign-up in the Commons during your lunch period today, March 5 or tomorrow, March 6.  The talent show is Thursday, March 20 at 2:30pm in the Auditorium.
DO YOU HAVE ANYONE YOU'RE STANDING UP TO CANCER FOR?  Come to the trophy hallway during all lunches today, March 5 and participate in our school-wide video project to stand up to cancer.  Any and all students and teachers are invited.  Stop by during your assigned lunch to participate.
ALL STUCO FORMS ARE DUE TODAY, March 5 in the Activities Office.
BOYS TENNIS will practice after school at Holman today, March 5 and tomorrow, March 6.  The bus is the last one in line on the bus loop.
THE GOLF TEAM will report to the driving range today, March 5 at The Quarry Golf Course.
BOYS' VOLLEYBALL will meet in Coach Schwendemann's room, D210, today, March 5 for tryouts.
COLLEGE REP. VISITS:  
SIU-C will be here tomorrow, March 6 at 10:00am.
MO S & T will be here tomorrow, March 6 at noon.
To sign up and get a pass, please see Mrs. Patrick in the Guidance Office.  See the posted list in the Guidance Office for a complete listing of upcoming college rep. visits.
COMMUNITY SERVICE OPPORTUNITY:  The District Speech and Debate Tournament this weekend (March 7 and 8) at Pattonville High School is looking for volunteers to help in the concession stand.   Stop by the CSO immediately to
sign-up; various shifts are available.
ALL STUDENTS GRADES 9-12 are welcome to attend a Historically Black College Fair on Saturday,March 29 from 10-1 at St Peter AME Church at 4730 Margaretta Avenue, 63115.  Bring a copy of your College Resume.  See the list of colleges attending on the door of the College Center.
THE PTO SCHOLARSHIP WAS ESTABLISHED TO HELP PATTONVILLE SENIORS with the financial burdens associated with their post-high school education.  Get your free application & details in the PHS College Center, located in the Student Commons, or online at the PTO website.  Completed applications should be returned to Julie Kampschroeder in the PHS College Center by April 1, 2014.  (
http://classrooms.psdr3.org/education/club/club.php?sectiondetailid=28002&
)
JUNIORS & SENIORS:  The ASVAB test is Tuesday, March 11.  Sign up NOW in the CSO.
SENIORS:  Community Service Honor Cord deadline is Friday, April 11.  Hours MUST be submitted by this date to qualify for the Honor Cord.
THE WORD OF THE WEEK IS PERTINENT (per·ti·nent).  The origin of the word pertinent is Middle English, first used in 1350–1400.  Examples of pertinent used in a sentence include:
The interviewer asked a very pertinent question.
Always maintain a collection of paper, pencils, pens and other pertinent supplies for class.
Remember the Pirate Code.  Be Respectful.  Be Responsible.  Be Involved.  
CONGRATULATIONS TO THE GIRLS BASKETBALL TEAM by defeating Parkway West 54-42.  The Girls will return to action Friday against Parkway North for the District Championship at 5:30.