District to participate in St. Baldrick's
PattonvilleTODAY staff
March 14, 2014
Hang on for a minute...we're trying to find some more stories you might like.
Bridgeway Elementary raised over $25,000 last year as only school involved
By Natalie Siegel and Brady Bell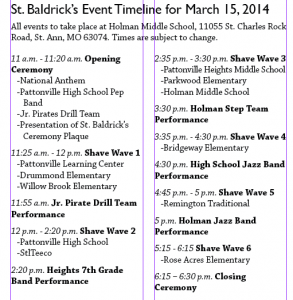 One year ago, Bridgeway Elementary School participated in a school-wide St. Baldrick's event to raise money for childhood cancer research. This year, the entire Pattonville community will have the opportunity to shave their head for a great cause.
"Last year, the St. Baldrick's Foundation and our school led the charge to change this startling reality," Bridgeway Elementary School fifth grade teacher Tammy Anderson said. "We had the unique opportunity to witness the power and heart of our students, families and community as we raised an astonishing $25,602 in the fight against childhood cancer."
It all started with Anderson's son when his grandpa was going through treatments for Stage 4 Lymphoma cancer.
"Without hesitation, my son asked if he could shave his head like papa so he wouldn't be bald alone," Anderson said, who serves as a team captain. "We attended a head shaving event at Helen Fitzgerald's and watched my son shave in support of his grandfather."
It was then that Anderson witnessed the power of the St. Baldrick's Foundation.
The St. Baldrick's Foundation raises millions of dollars each year to donate to childhood cancer research. They spend all year traveling to various schools around the country to hold school-wide shaving events.
This year, Pattonville is hosting a district-wide event at Holman Middle School on Saturday, March 15. Each school in the district will have the opportunity to participate.
"Students, teachers, family members and anyone else affiliated with the Pattonville community is welcome to participate," Pattonville art teacher and high school team captain Soctt Fader said.
Bridgeway had 105 students and teachers participate in the event last year. In 2014, the district has more than 220 individuals volunteering to cut their hair.
Third grade teacher at Bridgeway Nicole Hagedorn said St. Baldrick's really brought people together to rally for a good cause.
"It was amazing to see our small community school come together and pool resources to raise approximately $25,000 and teach everyone the priceless lesson that we can make a difference."
Bridgeway guidance counselor Lisa Bayer said the event brought new meaning to the word courage to the students.
"Through our month-long fundraising efforts and creating awareness about what St. Baldrick's is about, our students learned about the amazing amount of courage that kids with cancer have," Bayer said. "Our kids were touched by the stories of kids who have battled cancer and they were inspired to stand up and support them by raising money."
All shaves and cuts will be taking place at Holman Middle School on March 15. For those who don't wish to shave their entire head, they can sign up online to cut part of their hair for Locks of Love or simply volunteer to raise money.
This will be Fader's first time participating in St. Baldrick's. His personal goal is to raise at least $500 before shaving his beard.
"Our main goal as a community is to raise $20,000 for a very important cause," Fader stated. "All donations and volunteers are welcome."
[portfolio_slideshow]