St. Baldrick's event sets schedule for Saturday
Hang on for a minute...we're trying to find some more stories you might like.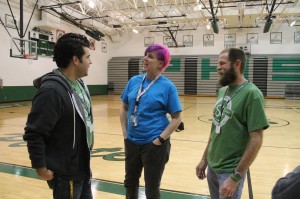 This Saturday, March 15, from 11 a.m. to 6:30 p.m., Pattonville School District is having its St. Baldrick's Foundation head shaving and Locks of Love event.
It's going to held at Holman Middle School and at the event, there will be several food options such as: Zia's Food Trucks, Sarah's Cakes Shop and My Big Fat Greek Truck.
Not only will food be present, but there will also be three bands playing: Boogie Chyld (11-12:30) Double D (1:30- 3) and Blackwater (4-5:30).
To top it off, there will be a Silent Auction that you can come browse and buy raffle tickets for your chance to win school baskets and donated items from local businesses.
The high school's Spirit Teams and instrumental groups will perform throughout the event as shavees and Locks of Love participants take the stage.
Here is the order of activities:
11:00- 11:20: Opening Ceremony
National Anthem
Pattonville High School Pep Band
Jr. Pirates Drill Team
Presentation of St. Baldrick's Ceremony Plaque
11:25-12:00- Shave Wave 1
Pattonville Learning Center
Drummond Elementary
Willow Brook Elementary
11:55- Jr. Pirate Drill Team Performance
12:00-2:20- Shave Wave 2
Pattonville High School
STLTeeCo
2:20- Heights 7th Grade Band Performance
2:35- 3:30- Shave Wave 3
Pattonville Heights Middle School
Parkwood Elementary
Holman Middle School
3:30- Holman Step Team Performance
3:35- 4:30– Shave Wave 4
4:30- High School Jazz Band Performance
4:45-5:00- Shave Wave 5
5:00- Holman Jazz Band Performances
5:15- 6:15- Shave Wave 6
6:15-6:30- Closing Ceremony