Annual Taste of Pattonville event to be held April 3
Hang on for a minute...we're trying to find some more stories you might like.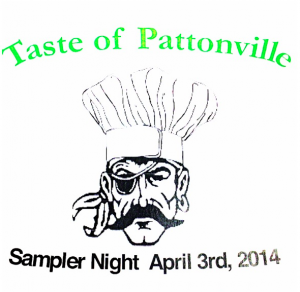 If you have a hearty appetite, come out to the 8th Annual Taste of Pattonville on April 3 from 5:30 to 8 p.m. Proceeds benefit the Renaissance and Character Education committees.
More than 25 restaurants participate in the sampler night which takes place in the high school cafeteria. Tickets, which are on sale now, allow a person to pick up a sample from every restaurant that attends.
Senior Danielle Siegel, who is one of the students in charge of the event, said Taste of Pattonville is always a fun way for the community to come together.
"There is Italian, Indian, Asian, Mexican and, of course, American food offered."
Even if you have a sweet tooth, places such as  Jilly's Cupcakes, McArthur's Bakery, and Dairy Queen will be there.
The money raised by the fundraiser goes toward different Renaissance programs such as the Dessert Bar, the Grades Improvement Luncheon, Field Day, MVP, Pirate Renaissance T-shirts, and Scholar-Athlete T-shirts. It is the only fundraiser held by Renaissance.
English teacher Beth Moritz is the sponsor of Renaissance and hopes to get a lot of people to attend this year.
She said the more people that participate and support the program, the bigger the event becomes every year and keeps the tradition going.
"There is some rain expected for this Thursday, but we really want people to still come out."
Tickets are on sale now for $12 for adults and students 6th-12th grade, $8 for students from K-5th grade, and free for children who have not yet entered Kindergarten. They are available during all lunch sessions and will also be available at the door. Click here to download the flyer.
Participating restaurants include: Candicci's, Chevys, Corbin's, Dairy Queen, Einstein Brothers Bagels, Jilly's Cupcakes, Jimmy Johns, Lehmann's Landing, Lone Star, Macaroni Grill, McAlister's Deli, McArthur's Bakery, McDonald's, Moe's Southwest Grill, PHS Culinary Arts Class, Raj's Rasoi, Shamrocks Pub and Grill, Smoothie King, Starbucks, Sweet Tomatoes, Tony's Donuts, Tornatores, T.G.I. Fridays, Tony's Donuts, Viviano's, Waffle House and more!