ANNOUNCEMENTS April 2, 2014
PattonvilleTODAY staff
April 2, 2014
Hang on for a minute...we're trying to find some more stories you might like.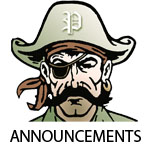 PTO GRANTS ARE AVAILABLE for students attending a camp or program this summer. The program or camp must relate to Academics, Fine Arts or Leadership areas that directly enrich school experience and cannot violate MSHSAA rules. Sports programs are excluded (including Drill Team and Cheerleading). College credit courses are also excluded. Also, their parent must have been a PTO member, since December 2013. The application is due by April 30, and can be found online (under PTO) or in the Activities Office.
PROM GUEST PERMISSION FORMS are available outside the Activities Office through Friday, April 11.
PROM TICKETS WILL BE ON SALE FOR $55 APRIL 7-11 and $65 April 14-17. Tickets will be sold during lunch. You must have your School ID and all fines paid to purchase. You must have 90% attendance to attend.
THE MINORITY ACHIEVEMENT BASKETBALL GAME is Thursday, April 24 at 2:30pm. Students who would like to participate should sign-up in room D205.
ANIME CLUB is sponsoring a canned food drive to benefit "can town". Please bring any non-perishable food items to room F200.
ART CLUB will meet today, April 2 after school in G108.
DON'T MISS OUT! BUY YOUR TICKET TODAY FOR THE TASTE OF PATTONVILLE! Come sample food from over 25 restaurants. Tickets are $12 and are being sold in the Commons during all lunch sessions!
TASTE OF PATTONVILLE…TOMORROW, APRIL 3…PHS CAFETERIA…5:30 – 8:00PM…BE THERE!
STUCO STORE IS HAVING 25% OFF on all apparel in the store this week. Also, this is the last week to get the "Eliminating the R-word" t-shirts at lunch.
FCCLA CARING FOR OTHERS will meet during Contact Time tomorrow, April 3 in room E203.
THE MINORITY ACHIEVEMENT CLUB (MAC) will meet during Contact Time tomorrow, April 3 in room D205.
FEA WILL MEET during Contact Time tomorrow, April 3 in room E210.
COLLEGE BOUND JUNIORS are invited to attend the Boot Camp Session titled: How to Locate Scholarships for College in the College Center from 1:15-2:10 tomorrow, April 3 after school. Bring your laptop. You do not need to sign up in advance.
A+ TUTOR TRAINING CLASS will be held tomorrow, April 3 from 1:15-2:15pm. in room E200. Any questions, contact the Community Service Office.
GRADUATION ANNOUNCEMENTS will be delivered during lunch sessions on April 7 and 8.
ATTENTION ATHLETES! Cheerleading Tryouts will be held April 14-17 in the main gym from 5:30-8:30pm. Please remember to bring your completed tryout packet and an up-to-date physical! Good Luck!
THE WORD OF THE WEEK IS SIMULTANEOUS (si·mul·ta·ne·ous). Here are ways simultaneous is used:
Multi-tasking or doing several things simultaneous-ly is popular but not always effective nor efficient.
Unbelievably, the sun was shining brightly and simultaneous-ly it was snowing.
Bug house chess is fast paced with simultaneous games being played side-by-side.
Remember the Pirate Code. Be Respectful. Be Responsible. Be Involved.
PIRATE CODE INCENTIVES MARCH 31-APRIL 4
Pirate Code Winner: $10 QT Gift Card (Winner to be announced on Friday)
Attendance Games Winner: $10 STUCO Bucks
TODAY'S ATHLETIC EVENTS:
Varsity Baseball in the MICDS Tourney vs. Priory at Priory at 4:00.
Freshman Baseball, home, vs. Francis Howell North at 5:15.
Girls Lacrosse, home, vs. Webster Groves at 5:30.
Freshman Girls Soccer, away, vs. Hazelwood West at 4:00.