Kicking it into high gear
Tim Vleisides
April 4, 2014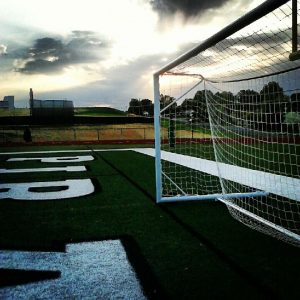 With seven returning starters for the Pattonville girls' varsity soccer team, the girls have hit their stride early. The team has recorded three consecutive shutouts in their first four games – including a sound 6-0 victory over conference rival Hazelwood Central – and have been recognized as the 4th-ranked soccer team for large schools in the area by STLHighSchoolSports.
"I feel like we started off really strong; better than expected," varsity coach Tom Iffrig said. "Tuesday [against Hazelwood Central] we started putting it all together, and hopefully we can use that as momentum for the Nerinx game on Friday."
Nerinx (1-0-1) opens the season as the 5th-ranked soccer team for large schools in the same STLHighSchoolSports ranking that has Pattonville (3-1) sitting at No. 4.
Though the team only has two seniors, there has been no lack of production by underclassmen. After four games, freshman Madison Utley leads the team in both goals and assists (3 each).
"It's funny. We're young, but the girls actually have experience because a lot of them played a lot of minutes last year," Iffrig noted. "It's a positive for our team both for now and in the future."
With their sights set on a district championship and a state Final Four appearance in June, the girls are off to a convincing start. The girls will face their first big test tonight against Nerinx Hall at the Lou Fusz Soccer Complex at 6:45 p.m. Their game will be broadcasted online and available by clicking here.