SLIDESHOW PHS Youth & Law classes visit the Federal Courthouse
Hang on for a minute...we're trying to find some more stories you might like.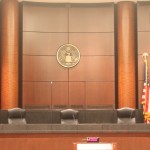 On Tuesday, April 8, the two Youth & Law classes, under the direction of Victor Fink and Heather Lopez, took a field trip to the Thomas F. Eagleton Federal Courthouse in Downtown St. Louis. The classes went on a tour of the courthouse that included listening to a US Marshall tell of her duties, visiting one of the district and appellate courthouse, touring a district judge's chambers, and watching an actual trial. The classes learned about the court process, how cases are able to be appealed, and many of the possible job occupations at the courthouse.
http://pattonvilletoday.smugmug.com/PHS-Youth-Law-at-the/