ANNOUNCEMENTS April 14, 2014
Hang on for a minute...we're trying to find some more stories you might like.
STUDENTS, WANTING TO RUN FOR 2014-15 CLASS OFFICE, are reminded that election petitions are due in the Activities Office by 2:45pm today, April 14.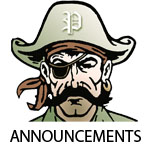 SENIORS:  Ms. Kampschroeder needs your list of scholarships and where you will be attendingcollege next year as soon as possible.  Your English teachers have the handout and there are extras on the table in the College Center.  You can continue to add and make changes up until May 15.
SENIOR ARTISTS:  Please bring the artwork, you would like included in the Senior Art Show, to your art teacher as soon as possible.
THIS IS THE LAST WEEK TO PURCHASE PROM TICKETS.  Tickets are being sold for $65 during each lunch session.  You must have your school ID and all fines paid to purchase.  You must have 90% attendance to attend.
STUDENT QUEST will meet today, April 14 after school in room E209.
KEY CLUB: There will be a meeting after school today, April 14 in H217.
THERE WILL BE A FOOTBALL MEETING in the upper gym on Thursday, April 17 during Contact Time for those interested in playing football next school year.
FEA WILL MEET during Contact Time Thursday, April 17 in E210.  All FEA members please attend.
THE WORD OF THE WEEK IS SUCCUMB (suc·cumb).  Succumb is a verb that means to give in to pressure, usually in a negative situation.
PIRATE CODE INCENTIVES APRIL 14 – APRIL 18
Pirate Code Winner: $10 QT Gift Card (Winner to be announced on Friday)
Attendance Games Winner: $10 STUCO Bucks
Remember the Pirate Code.  Be Respectful.  Be Responsible.  Be Involved.  
THE FEA ATTENDED THEIR NATIONAL CONFERENCE THIS PAST WEEKEND IN MINNEAPOLIS and competed in FEA competitions.    Jessica Davis, Sarah Murphy,
Michelle Cummings, and Danielle Nagelvoort all finished in the top ten in the nation in their competition events!
TODAY'S ATHLETIC EVENTS:
Varsity Boys Golf vs. Ritenour at the Quarry at 3:00.
JV Boys Golf vs. Webster Groves at Sunset Hill Golf Course at 3:30.
Varsity Boys Tennis, home, vs. Francis Howell at 3:30.
Varsity Baseball, home, vs. Francis Howell North at 4:00.
JV Baseball, away, vs. Francis Howell North at 4:00.
Varsity/JV Boys Volleyball, away, vs. Westminister Christian Academy at 4:15.
Freshman Girls Soccer, home, vs. Ft. Zumwalt West at 4:15.
Girls Lacrosse, home, vs. Whitfield at 5:30.