Pattonville boys' tennis team set for busy week
Joey Schneider
April 14, 2014
Spring athletics continue with a wide slate of performances this week, but no team may experience more adjustments this week than Pattonville Boys' Tennis. After playing just two games in the past two weeks, the team will focus on winning four matches in the next five days.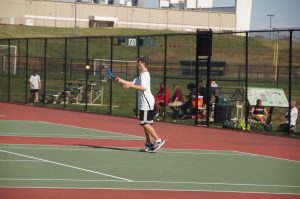 "Since we are just starting out our season, it would be good to get some early wins here," said assistant coach Shaun Patrick about this stretch.
Coming off of their second consecutive conference champion season, the team carries a 1-1 record into this week. Although this will inevitably be the team's last season in the Suburban North conference, coaches and players have high expectations.
"We encourage players to approach every match the same way," said Patrick. "Rather if our the competition is in the Suburban North or not, we want to win every single match possible."
Prior to this week, the team's practices had been altered or moved indoors to accommodate for the rapid pace of the season. Rainy, windy and cold conditions have infrequently caused the team to improve conditioning and work on fundamentals in the upper gym, and similar arrangements may be made this week if weather postpones matches.
"We have to be prepared to play whenever [weather permits]," Patrick emphasized. "If we have to reschedule matches, it's just part of the game that the team has to mentally prepare for."
Four seniors occupy six of the team's Varsity spots, taking over roles covered by a team that graduated nearly 2/3 of Seniors in 2013. While many athletes on this year's squad may be unfamiliar with large competition, players are optimistic about the challenges that lie ahead.
"Last year I didn't get the opportunity to play much, and I enjoy the chance to play more varsity games," said junior Brian Jennings. "I'm looking forward to trying my best to win and help the team become conference champions again."
Permitting weather, here is the team's schedule for this week. Scores and updates will be reported throughout the week to the website.
Schedule:
Monday April 14, 2014- Home vs. Francis Howell, 4 p.m.
Wednesday April 16, 2014- Away vs. Ritenour @Woodson Park, 4 p.m.
Thurs April 17, 2014- Away vs. McCluer North @ McCluer North High School, 4 p.m.
Friday April 18, 2014- Home vs. St. Charles West, 4 p.m.