Class officer elections to be held Friday, April 25
Hang on for a minute...we're trying to find some more stories you might like.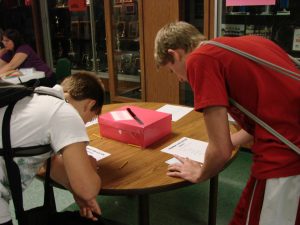 It's election time once again. On Friday, April 25, students will have the opportunity to vote on their class officers for the upcoming 2014-2015 school year. Students who vote will have their named checked off of a list in order to keep the voting fair and to prevent students from voting multiple times.
Though not required to vote in the class officer election, many students feel it is important to cast a vote.
"Voting for class officers is important because it allows us to elect people who we, as a class, truly want to represent us," sophomore Ervin Dubo said.
Students from each class will vote on four different officer positions, including, President, Vice President, Secretary, and Treasurer. These four officers will represent their classes as well as have a voice in future decision making and planning.
Class officers are typically seen as leaders, but when campaigning for office, they need a bit more than leadership qualities to persuade their classmates.
"Class officers should be students who are not only leaders, but who are also passionate about their class," Dubo added.
Despite the persuasion of students and candidates, there are some students who just don't feel the necessity to vote.
"I think the class officer election is just a big popularity contest with no meaning," freshman Sarah Marx stated.
Voting will take place next Friday, April 25, in the gym lobby during all lunches. A list of the candidates will be posted Friday, April 18 before lunch on the STUCO store window. You MUST have an ID in order to obtain a ballot. Don't miss out on your opportunity to vote for who runs your class. Get out and let your voice be heard!