ANNOUNCEMENTS April 16, 2014
Hang on for a minute...we're trying to find some more stories you might like.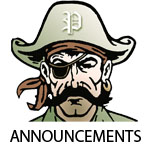 ATTENTION GRADUATING SENIORS:  Try-outs for the graduation speeches will be held on Wednesday, April 30 at 2:30pm in D107.  Please bring a copy of your 3-minute manuscript to the try-out.  If you have any questions, please see Mr. Lopinot.
ART CLUB AND GALLERY G STAFF will meet today, April 16 after school in G108.
CHESS CLUB will 

not

 meet today, April 16.
THE LIBRARY WILL BE CLOSED AND TUTORING WILL BE CANCELLED tomorrow, April 17 for the MVP reception.
IF YOU OWE THE ST. LOUIS COUNTY LIBRARY MONEY for overdue books, movies, etc., you have a few more days to take in canned goods for fine forgiveness.  Hurry, get your canned food in before the end of this week to clear up your fines.
THE KNITTING CLUB will meet during Contact Time in Ms. Mulanax's room, E206, tomorrow, April 17.
THE MINORITY ACHIEVEMENT CLUB will meet during Contact Time tomorrow, April 17 in room D205.  All participants in the MAC Basketball game should also meet in room D205.
THERE WILL BE A FOOTBALL MEETING in the upper gym tomorrow, April 17 during Contact Time for those interested in playing football next school year.
FEA WILL MEET during Contact Time tomorrow, April 17 in E210.  All FEA members please attend.
PTO GRANTS ARE AVAILABLE for students attending a camp or program this summer.  The program or camp must relate to Academics, Fine Arts or Leadership areas that directly enrich school experience and cannot violate MSHSAA rules.  Sports programs are excluded (including Drill Team and Cheerleading). College credit courses are also excluded. Also, their parent must have been a PTO member, since December 2013.  The application is due by April 30, and can be found online (under PTO) or in the Activities Office.
THE WORD OF THE WEEK IS SUCCUMB (suc·cumb), which means to give in to pressure.  To manage finances, smart consumers should not succumb to advertising or the impulse to spend too much money.  
PIRATE CODE INCENTIVES APRIL 14 – APRIL 18
Pirate Code Winner: $10 QT Gift Card (Winner to be announced on Friday)
Attendance Games Winner: $10 STUCO Bucks
Remember the Pirate Code.  Be Respectful.  Be Responsible.  Be Involved.  
THIS IS THE LAST WEEK TO PURCHASE PROM TICKETS.  Tickets are being sold for $65 during each lunch session.  You must have your school ID and all fines paid to purchase.  You must have 90% attendance to attend.
SCHOOL WILL BE IN SESSION this Friday, April 18.  PHS will have a normal "A" day, 7:23am – 2:13pm.
TODAY'S ATHLETIC EVENTS:
Varsity Boys Golf in the Bulldog Challenge at Winghaven at 7:30am.
Varsity Boys Tennis vs. Ritenour at Woodson Park at 4:00.
Varsity Baseball, home, vs. McCluer North at 4:00.
Freshman Girls Soccer, home, vs. St. Joseph's Academy at 4:00.
JV Girls Soccer vs. Rosati-Kain at Midwest Soccer Academy at 4:15.
Girls Lacrosse vs. Visitation Academy at Hazelwood East at 5:30.