High school distraction No. 2048
Hang on for a minute...we're trying to find some more stories you might like.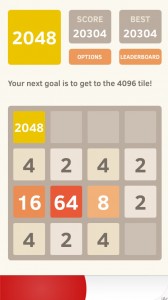 Just in time for the end of Grading Period 5, the newest classroom distraction has reached app stores everywhere: 2048. This multicolored puzzle game serves as an entertaining pastime for users but, like its predecessors Candy Crush and Flappy Bird, has the potential to become highly addictive.
Though the game is just over a month old, 2048 can be found on the smartphones and Macbooks of many Pattonville students — often being played during class periods — as they try to conquer the 4×4 grid.
"My addiction to the game is terrible," acknowledged senior Jennifer Baker. "It's so distracting, but I love it."
For some, earning the coveted 2048 block came in a matter of days. Senior Jake Deckard said he found success early with the help of a strategy that may come as a surprise to some users.
"My best tip for any new player is to keep the highest [number] tile in one corner," Deckard shared. "That way all of the smaller tiles will flow into the largest one."
As for others, like Baker, success is still in the works. However, as both the old saying and Baker's optimistic approach dictates: "Practice makes perfect."