Freshman baseball starting off the season right
Jordan Colquitt
April 19, 2014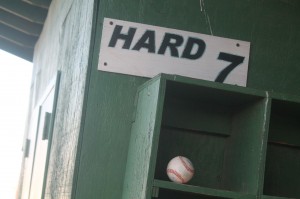 The freshmen baseball team has been off to a 4-0 start this season but they aren't just winning games, they are dominating them.
On April 15, they played Hazelwood East and blew them out 38-0.
Third baseman and catcher, Charlie Leuthauser said, "The first inning we dropped 10 runs. Then our coach pulled all our starters and we had the bench go in and we scored 28 runs in the second inning."
Even though the freshmen team had an easy home game, pitcher and catcher Josh White doesn't believe the rest of the season will be like this.
"I think since we play this team again, that game will be [the same] but some of the other games might not be as close and we will actually have to try."
Next year, all Pattonville sports will be switching to a new conference. Freshman coach Doug McGhee thinks the freshman will be just fine.
"I think we will be competitive," McGhee said. "We've played four games this year and we've beat Hazelwood West and Ritenour who are in our conference and we've also beat Marquette. That's a team we will be playing against a lot and who are competitive and we beat them. All we can ask is to go out there and compete and have a chance to win."