SNHS makes final trip this year to Loaves and Fishes
Hang on for a minute...we're trying to find some more stories you might like.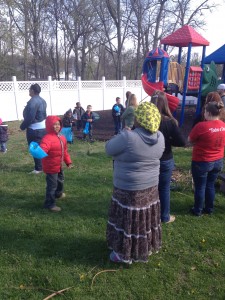 On April 15, the Spanish National Honors Society (SNHS) took a trip after school to Loaves and Fishes for the second time this year. The first visitation was in November in which the members cooked and prepared a Thanksgiving meal for the kids and their mothers. After visiting Loaves and Fishes once already, SNHS members were ready to make this a memorable Easter celebration.
This shelter provides food for at least 7,000 people and over 300 women and kids each year. Going through many changes and renovations, they transformed it exclusively for women and kids with 29 rooms available for them to stay in. The members each prepared a specific meal and desert, including coloring Easter eggs and a lot of dessert.
"This visitation went a lot better than last time because there were more kids and it was nice to see the kids happy that we were there," stated junior Sasha Shook
The members arrived at Loaves and Fishes at about 3 in the afternoon, and quickly began cooking the Easter meal. After about an hour of preparation, the members pre-made the plates with food for the little kids.
Senior Jain Bushra said, "It was really fun seeing the kids and it was a memorable last trip to Loaves and Fishes for me."
After the Easter meal, the SNHS members went outside and started hiding Easter eggs all around the kid's playground. The members then enjoyed watching the kids sprint to the playground and find the eggs.
"This trip was good because we got to serve them a successful dinner and showed them there are people out there that care, and the world isn't as bad as it seems," senior Giezy Momanyi said.