ANNOUNCEMENT April 23, 2014
Hang on for a minute...we're trying to find some more stories you might like.
THE SENIOR ART SHOW begins today, April 23 and is available to the public every day after school in the Auditorium Lobby from 2:15-3:30.  Please, come out and see our talented artists!  The show runs thru Friday, May 16.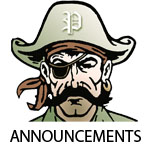 ATTENTION JUNIORS AND SENIORS:  Operation Prom Safe is scheduled for 3rd hour today, April 23.  Juniors and Seniors should have reported to their 3rd hour class.  An announcement will be made to release students to the Prom Safe assembly.  
JUNIORS:  The Common Application Boot Camp session scheduled for tomorrow, April 24 after schoolhas been cancelled.
TEACHERS:  IF YOU HAVE SIGNED UP FOR THE DRIVERS EDUCATION ASSEMBLY TOMORROW, APRIL 24, your classes will be released to the assembly via an announcement over the intercom early 4th hour.  Please wait for the announcement before sending students to the auditorium.
THE COMMUNITY SERVICE CLUB will be recycling tomorrow, April 24 after school.
MINORITY ACHIEVEMENT BASKETBALL is tomorrow, April 24 in the main gym at 2:30.
FREE FOOD AND AWESOME CONVERSATION tomorrow, April 24.  Come to the JSU meeting tomorrow right after school at 1:15pm in Mrs. Greenberg's room, D114, for FREE FOOD and AWESOME CONVERSATION.  Check out JSU tomorrow!
COLLEGE REP. VISITS:  
LINDENWOOD UNIVERSITY will be here tomorrow, April 24 at noon.
PAUL MITCHELL ACADEMY OF ST. LOUIS will be here Friday, April 25 at noon.
To sign up and get a pass, please see Mrs. Patrick in the Guidance Office.  
THE WORD OF THE WEEK IS SUFFICE (suf·fice), which means to be enough.  Suffice comes from the Latin sufficere (suf fik er ee) which means "to put under" or "to meet the need of".
PIRATE CODE INCENTIVES APRIL 21-APRIL 25
Pirate Code Winner: $10 QT Gift Card (Winner to be announced on Friday)
Attendance Games Winner: $10 STUCO Bucks
Remember the Pirate Code.  Be Respectful.  Be Responsible.  Be Involved.  
COMMUNITY SERVICE OPPORTUNITY:  Volunteers are needed at the Arthritis Foundation Annual Walk to Cure on Friday, May 16 at Logan College in Chesterfield.  Pick up information outside the CSO.
PTO GRANTS ARE AVAILABLE for students attending a camp or program this summer.  The program or camp must relate to Academics, Fine Arts or Leadership areas that directly enrich school experience and cannot violate MSHSAA rules.  Sports programs are excluded (including Drill Team and Cheerleading). College credit courses are also excluded. Also, their parent must have been a PTO member, since December 2013.  The application is due by next Wednesday, April 30, and can be found online (under PTO) or in the Activities Office.
TODAY'S ATHLETIC EVENTS:
Varsity Boys Golf Tri vs. Parkway North & Parkway Central at the Quarry at 3:00.
Boys Tennis, away, vs. CBC at 4:00.
JV Baseball, away, vs. Hazelwood West at 4:00.
Freshman Boys Baseball, home, vs. Hazelwood East at 4:00.
Varsity/JV/Freshman Boys Volleyball, away, vs. Seckman at 4:15.
Water Polo, home, vs. Clayton at 4:30.
Girls Lacrosse, home, vs. Hazelwood West at 4:30.