Getting to know Pattonville's 2014 prom queen and king
Hang on for a minute...we're trying to find some more stories you might like.
For many students, prom marked a night in which hundreds of upperclassmen came together, danced and enjoyed the entertainment. But for seniors Jennifer Baker and Austin Ratanasitee, their prom experience was incomparably different than others.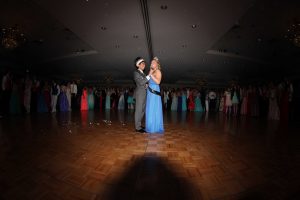 On May 3, 2014, prom attendees respectively voted Baker and Ratanasitee as Pattonville's 2014 prom queen and king. Each student had the opportunity to choose one queen and king between 12 eligible prom court nominees before entering the dance.
"This accolade means quite a lot to me because it came directly from my friends and peers," said 2014 prom king Austin Ratanasitee. "Being able to represent the school and student body is an honor I won't take for granted."
Both winners have interesting backgrounds and high school experiences leading up to their selections. To learn more about Baker's and Ratanasitee's personal lives, check out the following interviews below.
Involved With?
JB: National Honors Society, Volleyball, Swimming, Water Polo
AR: National Honors Society, Spanish National Honors Society, Pirate TV, Pirate Code, Mr. PHS
Favorite Food?
JB: Pancakes
AR: Cheeseburger with fries
Favorite School Subject?
JB: Math
AR: Advanced Production for Broadcast
Favorite Teacher?
JB: Mr. Christian
AR: Ms. Florence
Favorite Sport(s)?
JB: Water Polo
AR: Baseball and Soccer
Dream Vacation?
JB: "A trip to Florida with my friends."
AR: "I would love to tour the Italian Countryside."
Describe experience of winning prom queen/king?
JB: "I was so surprised that I was named prom queen and I didn't think I was going to win at all. But it was awesome to win the award from the support of my friends."
AR: "I was very surprised that I won prom king. I figured that students would vote for one of the other candidates because I had won Mr. PHS [in February]."
Best part of high school experience outside of prom?
JB: "I've really enjoyed participating in sports during my four years."
AR: "The best part of my high school experience has been meeting all of the people at PHS. Our school is full of interesting, kind and bright people and being able to see everyone makes coming to school five days a week a lot easier."
Something interesting about you that others might not know?
JB: "I'm in the Top 10 Senior Class Rankings." *No. 9 in Pattonville Class of 2014.
AR: "Over the summer last year, I took boxing lessons at Title Boxing Club. I went about three days a week and I'm happy to say that I've got a powerful right hook. I'm also an avid fan of women's soccer."
JB: Jennifer Baker
AR: Austin Ratanasitee