Thomas works one-on-one with seniors
Hang on for a minute...we're trying to find some more stories you might like.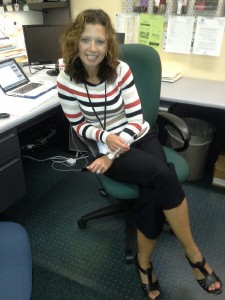 Ms. Stacey Thomas, one of the counselors at Pattonville, is the seniors' main sidekick in overcoming the rest of high school. She said she is looking forward to a very successful school year with the students.
"We have a lot of good kids here on track and exceeding well beyond," Thomas said.
Before becoming a counselor, she was a history teacher. Thomas wanted to pursue a more interactive career with students so she went back to school to become what she is now: a senior counselor.
"I wanted to work with kids one-on-one while being able to help and talk in a more private setting."
Helping out this way could really assist a student into being on the road to major success. Thomas has been a counselor for about 14 years and counting and she helps with keeping students credits on track, making sure they are on the path to graduating and keeping that process going.
She also helps students with tests. Just making sure they get registered and all prepared and ready to take things like the ACT and SAT.
Instead of graduating early, Thomas said it is preferred that students should stay in high school for the rest of their senior year because "there may be memories left here to witness and experience."
It was also said of the contagious disease the class of 2015 is being diagnosed with: "SENIORITIS" meaning that some are slacking because they have come to the last months of high school.
"Work hard and enjoy it. Don't get out of the game too early."