Harris hurt, but not injured
Hang on for a minute...we're trying to find some more stories you might like.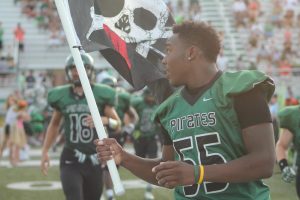 Preparation and execution are things No. 55 Jayveon Harris values highly.
Harris is Pattonville football's starting right guard and a team captain, but in the blink of an eye, he found himself on the injured reserve list.
Training and weightlifting with his teammates were two things consistent in his off-season, however leading up to the first game he found himself alongside his teammates only being able to cheer them on because he was out for 6 weeks with a contorted knee from 1-on-1s at football practice over the summer.
He said what hurt the most was not being able to play with his brothers more so than the injury itself. He went through strenuous physical therapy and attended every practice even when he wasn't playing to learn the plays as well as support his team.
The varsity team had Harris lead them onto the field in the first game waving the Pirate flag showing that regardless of injury, Harris was going to ride into battle with his brothers.
He has recently been cleared to play and continues treatment with his knee.
"It feels good because I realize every play could be your last play so I just hope to make the most of every moment I get with my team."
He said that Pattonville has a very special team this year with a championship mindset, and are going to do very big things. With a record of 2-0 so far in the season it seems promising. Harris wants to contribute to future wins and avoid injury, all while aspiring to an individual goal of achieving first team all-state.
The next game is Saturday, Sept. 6, at Hazelwood West at 1 p.m.