Freshman soccer teams works in practice to improve overall performance
Hang on for a minute...we're trying to find some more stories you might like.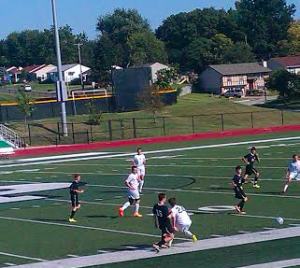 The freshman soccer team started the year out strong with a 2-1 win against Fort Zumwalt South, but since then, the team is 0-6 and they haven't scored a goal.
They are getting closer though.
On Sept. 18, against Westminster Christian Academy, they were again shutout, this time, 1-0.
"We played great against a really, really good team and came close to scoring a lot," Will Polster said.
Andrew Masters came back from an injury and inspired the offense letting them have more possessions.
"The last practice helped a lot," Polster said.
During that practice, the team worked on their passing, teamwork, and defense.
"We had five boxes of cones with two people in each box, one with a jersey and one without," Trevor Vigus said. "We practiced passing to our team while staying in the boxes."
In another drill, the team was trying to complete three passes without the other team taking the ball and when they completed those passes, they could finally shoot.
The players also worked on their defensive skills with a 3-on-2 drill.
Vigus said the main goals of this practice were to work on "keeping our heads up and being able to pass so that we didn't get stripped of the ball as much."
The team is improving and Vigus hopes to start scoring and winning games soon.
"I think that if we could finish on offense, then we would be able to win."