Flag flies at half-staff because of attacks in Paris
Hang on for a minute...we're trying to find some more stories you might like.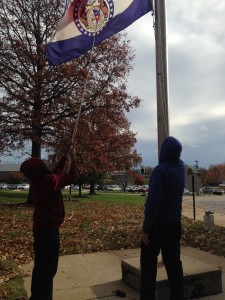 Usually the United States flag flies high, but due to the recent terrorist attacks in Paris, France, Pattonville High School is following President Barack Obama's orders of flying the flag at half-staff.
"It's supposed to be at half-staff when a tragedy happens," Ms. Debbie Forbes said when fixing the placement of the flag in front of the school after she noticed that the flag was too low to the ground.
The American flag is supposed to be above the state flag and it appeared that the American flag was almost touching the concrete.
"I usually don't do this," she said as she was fixing it.
Usually another custodian is in charge of adjusting the height of the flags, but Forbes saw that it needed to be fixed and decided to take action.
After the attacks that took place on Nov. 13, Obama ordered all American flags to fly at half-staff from Nov. 15-19.
"It will go back to normal tomorrow," Forbes said.