Greenwell has a different perspective of drawing
Hang on for a minute...we're trying to find some more stories you might like.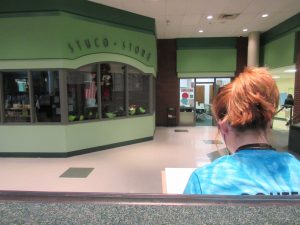 Art students left the classroom and found different places around the school to work on their latest project.
"I've been drawing since I could remember," Rene Greenwell said, as she sat in the Commons with her headphones in, sketching what appeared in front of her.
During 3rd hour, Greenwell was sitting next to the steps by the STUCO Store with her pencil and large paper.
"I'm doing a prospective drawing for my Drawing 2 class," she said. "We just have to draw what we see."
According to Greenwell, she gets a lot more work done outside of the classroom than in it, and she said she enjoys the outside activities.
"We have been working on this project since Monday," Greenwell said. "We are supposed to have three drawings done but the end of all of this. I have two already. My first one was of the front entrance of the library, that was pretty interesting."
She wants to continue her art education after high school.
"I want to be an art major," Greenwell said. "I have one school in mind as of right now."