Thespian Conference helps students prepare for Cinderella
Hang on for a minute...we're trying to find some more stories you might like.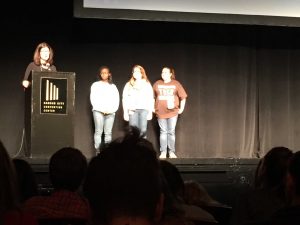 Eight students went to Kansas City to attend the Missouri State Thespian Conference from Jan. 6-9. They attended workshops, watched shows, and performed
individual events.
Seven of the students that attended are also a part of the high school production, Cinderella, which opens Feb. 11.
Bryce Prichard (12) is playing the role of the Prince in the production at Pattonville.
At the conference, he performed a duet scene with Sophie Vik (11) in front of the entire conference. The pair received a Superior rating, the best a student can receive.
"My individual event (IE) was really helpful in preparing me for Cinderella," Prichard said. "The fact that we got to perform in the showcase really gave me a boost of confidence."
Lesley Walker (12), who will be playing the Godmother in Cinderella, and Emily Tobar (11), who is playing a townsman, palace worker and a ball guest, also received a Superior rating on their duet musical. Walker was also a finalist for the Theatre for Life scholarship.
"Watching other performers at the Thespian Conference taught me some valuable lessons," Walker said. "I learned about changing the voice, physical form, and mannerisms of a character to create more believable character."
As the Godmother, Walker has to hit high notes and portray a character different from herself. She said the conference really helped her learn different ways to act as a different character.
Tyler Balk (12) attended the conference because it was his senior year and he loves theatre, and he wanted to increase his theatre knowledge.
"I think that overall, Thespian Conference helped me become a better actor," Balk said. "While nothing I did was directly helpful for Cinderella specifically, it helped me grow my general knowledge of good acting."
Cinderella will be performed at the high school auditorium Feb. 11-13 at 7 p.m. and on Feb. 14 at 2 p.m. Tickets are $5 for students and $7 for adults.