Tso is capturing the moments for Echo yearbook
Hang on for a minute...we're trying to find some more stories you might like.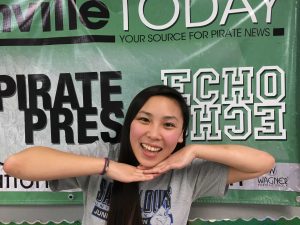 Junior Felicity Tso joined the Echo yearbook staff at the start of second semester. After experiencing the class for almost four weeks now, she has found herself easily fitting in with the routine of the class.
"Outside of the class, I go around taking pictures for my own spreads and then I also write stories as well," Tso said. "I haven't been in yearbook for very long but I'm going to have to say from the three or four weeks that I've been in yearbook, my favorite thing would have to be the people. Even the teacher, Mr. Heyman, has been super welcoming and he is always dropping by to see how I'm doing or if I need help."
The class accepted five new students at the start of 2016 and had 12 students returning to help guide the newcomers. The students spend their time in class designing spreads, writing stories, getting interviews, figuring out the latest details and taking photos.
"At first I was kind of freaking out about it because I just wasn't used to the type of work that you do in here," Tso said. "I'm also not used to just writing spreads or captions for pictures, but once I got used to it, I realized it's not that had; especially if you do what you bring to the table."
Many students that take Echo are involved in other activities outside of class as well, but Tso said that yearbook has not complicated those things for her.
"I'm involved with other clubs like NHS and Rho Kappa, I'm also on swim team. Honestly being involved in all of these different things has actually made yearbook so much easier because I already know what's going on or what's happening."
Pattonville's journalism division includes Pirate Press with the Pirates Sports Network, Echo, Introduction to Journalism, and Photojournalism.
"It wasn't really a class I was looking at and it wasn't something I thought I'd be interested in, but when I got the recommendation, I found myself thinking about joining.
Applications for Pirate Press and Echo are still being accepted for the 2016-2017 school year. Students in 10-12 grade are able to join but students in all grades can register for Introduction to Journalism and Photojournalism without a prerequisite.