Teachers recharge at METC Conference
Hang on for a minute...we're trying to find some more stories you might like.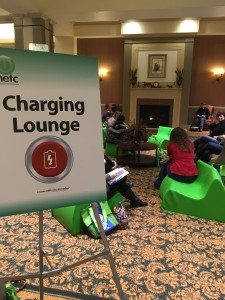 Teachers and educators attend Midwest Education Technology Community (METC) Conference each year to learn new things to bring to their schools dealing with technology.
In the recharging station upstairs at the St. Charles Convention Center, teachers use plugs to power up their devices, but the things they are learning in the sessions are powering their minds.
Lisa Miller is an elementary school teacher at Rock Creek Elementary in the Fort Zumwalt School District.
"I want to improve the technology at my school by implementing technology in the classroom using Chromebooks and iPads for students," Miller said.
Other teachers are following that idea and learning how to implement new skills by attending sessions like Tech Tools to Elevate and Evolve the Written Report.
"As an ELA teacher, it is exactly what I needed to see," Hancock Place Middle School teacher Stephanie Warner said. "Someone else is doing things and seeing how they're doing it and how it's working for their students is great."
Warner plans to take back some of the things she learned today and use them at her school.
About 2,000 attendees are registered for the 2016 convention.
"I'm planning to take back a program called Mr. Elmer," Warner said. "It is a phenomenal. It tracks data and as an aspiring administrator, that is what I'm looking for. It tracks hall monitors and it's collaboration in a way that we've never seen as far as putting in place interventions for students. It's really cool."