Freeze Over – Final show for Cinderella postponed
Hang on for a minute...we're trying to find some more stories you might like.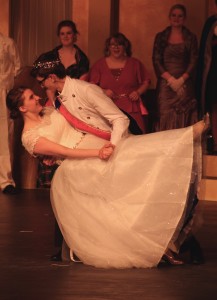 Musical students were prepared to perform the final show of Cinderella on Sunday, Feb. 14, but woke up to the surprise that the show had been postponed to Tuesday, Feb. 16.
The girl casted as the character name of the show, Jasmine Webber, was upset that her final performance on a Pattonville stage wasn't going to go as planned.
"At first, I didn't believe it," Webber said. "We had arranged 'Emergency Plans' for if we were snowed out, but I never thought we would need them. As reality hit, my heart broke. We had so many plans before and after the show in preparation for our last musical as seniors. I was so disappointed," Webber said.
Her mom helped her overcome the sadness.
"My mom came in and rubbed my back as I cried in bed. She perked me up and got me to eat something. But the closer to 2 p.m. it was, I felt angry. I started to resent the snow. Looking outside just made me boil with fury. However, after I let my emotions cool, I was thankful for stretching this amazing experience out a few extra days."
Some cast members had a hard time accepting closure with the show closing on a Tuesday night as opposed to that Sunday.
Lesley Walker, casted as the Fairy Godmother, felt like her life had pressed pause.
"I was really, really upset. I had been building up my emotions for the first three shows and had spent the week thinking that on Sunday I would be doing my last show on the Pattonville stage, and then suddenly it was postponed," Walker said. "I felt very incomplete and kind of edgy. It wasn't exactly as I thought things would go, but I bonded a lot with my cast mates over Sunday when we are all upset about the show together."
Assistant stage manager Abigail Schnable felt as though she wasn't getting closure, but more specifically with the company of the show.
"I was very shocked. [Director] Ms. Corvera had told us all it was a possibility but I know I definitely didn't think it was going to happen. We were completely prepared and normally when you are prepared you don't have to do your back-up plan," Schnable said. "When I woke up and saw that it was cancelled, of course I was upset. I mean it was supposed to be our last show and I was excited for the party and all the farewells to the seniors."
The president of the Thespian Society, Bryce Prichard, also casted as Prince Christopher, had similar feelings but was proud of the decision director Ms. Lara Corvera and the district made and how the show/full company came together overall on Tuesday night.
"When I found out the show was postponed I was very disappointed. I was very much looking forward to the show, strike, and the after-party and having to delay that was sad. But I trusted the judgment of Corvera and the district," Prichard said. "I just laid in bed and ate a lot of food since I didn't have to worry about singing that day which was nice."
But actually performing the show on a Tuesday night made Prichard's week very hectic.
"The show being postponed was disappointing but I am happy that we were still able to perform our last show and I am impressed by Corvera's ability to try to accommodate the things we missed like the party and strike [taking down the set]," Prichard said. "Overall, the best course of action was taken given the situation and I am proud of that fact."