Lashley transitions from pom poms to soccer balls
Hang on for a minute...we're trying to find some more stories you might like.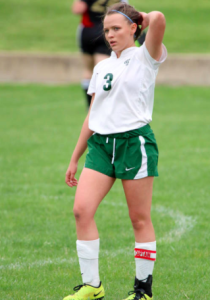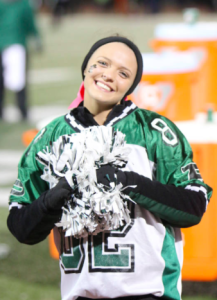 Sophomore Megan Lashley is a pretty active student. Not only is she a full-time cheerleader, but she also loves playing soccer. I was able to interview her and ask her a couple questions about the two high school sports and how it is transitioning between the two.
How is it transitioning from cheerleading to soccer?
It's hard at first getting used to back-to-back practices for soccer, but after that, it's easy to transition because both sports are pretty different.
 Which sport do you like better?
I don't really have a favorite. I like both for different reasons. I really just love being a part of a team and the experience of making new friends and bonding with old ones.
Which soccer team are you hoping to make?
I'm just trying out for JV, but it would be cool if got pulled up to play Varsity at some point.
How long have you been playing both sports?
I've been playing soccer since 1st grade for Holy Spirit and I went to Scott Gallagher in 5th grade to play select soccer. And I've been cheering since 6th grade.
What are you excited for this soccer season?
I'm just really excited for the games and bonding with the team. I love playing and staying active, and it gives me something to do since cheerleading isn't going on.