Varsity girls' soccer honors seniors with 1-0 win over Oakville
Hang on for a minute...we're trying to find some more stories you might like.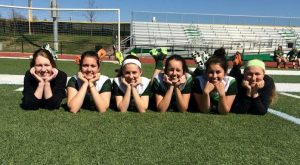 The varsity girls' soccer team honored its graduating players on senior night, which took place on Wednesday, April 27. The Pirates played Oakville High School, and Pattonville came out with a 1-0 win scoring off of a penalty kick in the second half.
The players made each of the seniors a tie blanket and a book that everyone, besides the seniors, wrote in. Each player said nice things, and there were also pictures from this past season and postseasons in the book too.
At halftime, the players gave each of the seniors their gift and each senior was called out individually and an announcement of each player's accomplishments and future plans were made, and then was given flowers and walked with their parents down the track. When all the seniors were called, pictures were taken of each individual's family and a whole group picture of the seniors was taken together and then one with the whole team.
Some of the seniors have been playing on the varsity soccer team for all four years of high school. One of these players is captain Leeann Graff.
"I am really going to miss hanging out with my teammates and laughing at stupid things together that only we would think is funny," Graff said.
After playing with some of her fellow seniors for all four years, and even playing with the juniors and sophomores for a couple years too, she said she has come to see them as a second family.
"It has truly turned into a family that will never compare to any other team," Graff said. "I am going to miss the girls, coaches, and soccer program as a whole."
Senior Nathalie Solorio recalls senior night being bittersweet.
"It was great having a night to celebrate us seniors' last 4 years," Solorio said. "It was exciting, but sad at the same time. But I am really happy and ready to move on to college."
Solorio said she will miss the program a lot. Being a part of the soccer program all four years of high school has been a great experience for her. She said she will definitely miss the coaches, but she will miss the girls even more.
"Although we are around each other 24/7 during the soccer season, can annoy each other, and get on each other's backs a lot, this has been the best group of girls I have played with," Solorio said. "This team will always be special to me."