Lacrosse honors its senior players May 10
Hang on for a minute...we're trying to find some more stories you might like.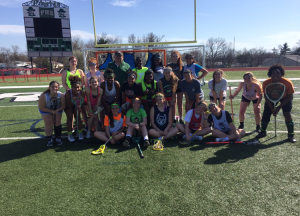 CORRECTION The lacrosse senior night game is May 10, not May 3. We apologize for the error.
The varsity lacrosse team seniors will be honored before their game on May 10 against Notre Dame, a team the Pirates have beaten in double-overtime already this season. This will be the first senior class the lacrosse team has had.
"It's a night to us to celebrate how far we've come in four years," Sam Wright said.
Rachel Polster said Senior Night is special because it's like an end to a chapter or for some players, the whole story.
"It signifies the end of our high school lacrosse careers and for some people, lacrosse in general."
Wright said the thing she's going to miss most is her coach and teammates cheering her on.
Wright's advice to the underclassmen is that there are so many lacrosse opportunities out there so keep up the hard work.
As a first year player, Polster is going to miss the team environment.
"I've played sports all throughout high school and I can honestly say that the team environment lacrosse has is the best you can find."
Her advice also includes to
work hard not just for yourself, but for your entire team.
"I promise a win is worth the sore muscles and hours and hours of practice."