Acappella group High Cs earn highest score possible at state competition
Hang on for a minute...we're trying to find some more stories you might like.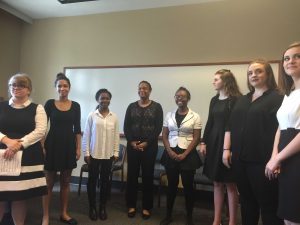 At the State Solo and Small Ensemble competition held at the University of Missouri, the acappella group High Cs from the chamber choir performed two pieces, Esto Les Digo and Tis the Gift to be Simple, and earned a score of all 1s, the highest rating a group or solo performer can receive.
In the group are seniors Jasmine Webber, Lesley Walker, Opal Pursely, Samantha Yancey (who was unable to perform due to a surgery prior), juniors Marissa Dickman, Sophie Vik, Gianna Bonner, Laniya Anderson, and sophomore Chloe Neal (stepping in for Yancey).
"We started working on the pieces in early January," Webber said. "I found out about the score through Ben Moser first, then I started getting the slew of mass texts in our group chat."
After the performance, Walker was with choir director Melynda Lamb and Pursely when they received the scores.
"I felt so proud of all the girls and myself," Walker said. "When we perform, we all come to life, and there's no greater experience than singing with a group of girls who love to make music."
The ensemble worked periodically throughout the semester since obtaining the pieces and wanted to make sure the High Cs have a strong reputation as a singing group.
"We knew that it would take a lot of practice together as an ensemble so we would practice as sections then come together to practice as a group.," Pursely said. "Usually we meet before and after school, more especially in the week leading up to the competition."
Webber, Walker, Pursely, and Dickman have been in the High Cs since it was formed in the previous school year and were excited to have another opportunity to go to the state competition.
"It felt right to be able to go again because I knew that we could do it and we're all disciplined enough," Pursely said. "We were mostly excited for the new girls in the ensemble to go and have that experience with us."
The High Cs will perform for the final time this school year at the spring choir concert tonight, May 5, at 7  p.m. in the auditorium.