Pattonville graduation ceremony to be held on May 26
Hang on for a minute...we're trying to find some more stories you might like.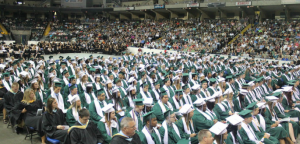 Pattonville's senior graduation will take place at 7 p.m. at St. Charles Family Arena on May 26.
"The Pattonville commencement ceremony is designed to be a respectful event and all seniors and their honored guests will be given the attention and respect they deserve," senior principal Mr. Bob Thompson said. "We should all look forward to a beautiful ceremony and the sharing of a final memory."
All seniors participating in the graduation ceremony should be expected to have a set plan for the day of graduation and families should be expected to be prompt and arrive on time.
"The day of the ceremony will be a busy day for seniors and their families," Thompson said. "Seniors should do all planning well in advance to help juggle the busy day. Seniors will be expected to arrive no later than 5:30 p.m. to the Family Arena."
In order to participate in graduation, seniors must have completed all of the Pattonville High School requirements. For seniors who have not attended the high school for all four years, they will have needed to complete the adjusted amount of community service hours.
"In order to graduate, they need to have the required minimum of 24 credits in selected non-elective and elective courses," Thompson said. "Students will also need to have completed 50 hours of community service. Hours are prorated if the student did not attend Pattonville High School all four years."
For seniors who are unsure whether they are able to graduate, they need to speak with senior counselor Ms. Trudy Steins or Thompson.
"If seniors are uncertain of their graduating status, they can speak with Ms. Steins or me."
After graduation, students may receive their diplomas in one of two ways.
One option would be to attend the all-night senior party, and the other would be to wait until May 27 and pick it up during normal school hours.
"Diplomas will be given out after the all-night party," Thompson said. "They can also be picked up at school the day after graduation between 7 a.m. and 3:30 p.m."