High school retiring teachers honored during luncheon
Hang on for a minute...we're trying to find some more stories you might like.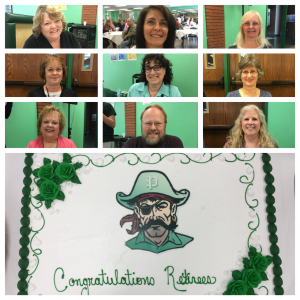 Fourteen staff members and teachers were honored today at the retirement luncheon at Pattonville High School. Each retiree was presented a gift after their introduction was read and then they were given the opportunity to give a speech to all of those in audience.
The following staff members and teachers will retire at the end of the school year:
Dr. Janet Baldwin, English
Ms. Sue Caimi, counselor
Ms. Vialettice Cobb, history (absent)
Ms. Darlene Comparato, cook
Ms. Anna Coreggia, modern language (absent)
Ms. Karen Gentille, Special School District
Ms. Aida Greenberg, English
Ms. Maxine Gyles-Allen, modern language (absent)
Ms. Emily Harris, librarian
Ms. Angie Ivie, PE (absent)
Ms. Joni Norris, secretary
Mr. Don Schulte, history
Ms. Kim Shine, secretary
Ms. Julia Weingart, Family and Consumer Sciences (absent)