Announcements August 12, 2016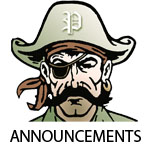 PattonvilleTODAY staff
August 12, 2016
STUDENTS WHO STILL NEED TO PICK UP THEIR LAPTOP may do so at the iLearn Service Center, F218, during Hours 4, 5, 6, or 7 today, August 12.  (Hours 1, 2, & 3, the iLearn Service Center will only be available for teacher/student laptop issues.)  To pick up your laptop, you must have payment ready and your parents must have completed e-registration.  Students whose parents have not completed e-registration will not be issued a laptop until e-registration is completed.
-Read-More-
ABSENTEE PICTURES are scheduled for Monday, August 15 from 7:30 – 10:00am. in B104.  Students who did not attend regular registration and any new students are eligible to attend.  Photographers will be here for students who need a picture taken for the first time.  Students who want to purchase pictures can either bring their order form on Monday or they can get information about ordering online from the photographer that day.  (All students have already received an order form.  If they have not, they will need to order online.)  Any staff member who missed picture day is invited to have his/her picture at 7:00am. or during plan time (prior to 10:00am).
FREE ACT REVIEW CLASS:  Monday night, August 15, will be the first free evening ACT review class for the September ACT test.  The review session will be from 6-8pm. in Room B113 and will cover a portion of the English subtest.
ATTENTION JUNIORS AND SENIORS:  National Honor Society applications are now available and are due by Monday, August 29.  See Mr. Brueckmann (D202) or Mrs. Schwendemann (E204) for more information.
THE MATH HELP CENTER will open next week.
ARE YOU INTERESTED IN BEING INVOLVED WITH THE 2016 FALL PLAY, LITTLE WOMEN?  If so, please see Ms. Corvera in room A213.  Information packets are available on the bridge for those interested in auditioning next week or applying to be a student leader or on a technical crew.
COLLEGE & CAREER COUNSELING ANNOUNCEMENTS:
Schedule your appointment with Mrs. Luraschi now to discuss your plans for after high school.

 

See Ms. Patrick, in the Guidance Office, to schedule.
Register for the Sept. 10 ACT now.

 

See Mrs. L for a fee waiver if you receive free/reduced lunch.

 

Late fees will still apply.
JUNIORS AND SENIORS:

 

College Planning Night is on Tuesday, August 30 from 6:30-8:30pm. in the Auditorium at PHS.

 

Bring your parents and learn all about college admission.

 

College Speakers include:

 

University of Iowa, Truman State, Illinois College, Western Illinois University, and St. Charles Community College.
ALL STUDENT ATHLETES:

 

An NCAA and College Athletics Presentation will be held on Tuesday, September 6 from 7-8pm. in the Auditorium at PHS.

 

Bring your parents and learn about NCAA Division Athletics & requirements and how to prepare in high school from the SIUE Athletic Director and Compliance Officer.
Remember the Pirate Code.  Be Respectful.  Be Responsible.  Be Involved.