Swim dives into the season with a Green & White meet
Hang on for a minute...we're trying to find some more stories you might like.
The fall season for sports has just begun and the games, meets, and tournaments are popping up on calendars at a fast rate. The Pattonville Boys' Swim team is having their scrimmage meet, known as the "Green and White Meet," on Friday, August 19. In this meet, the swimmers perform the way they would in any other meet and use it as a chance to prepare for upcoming ones against rivaling schools.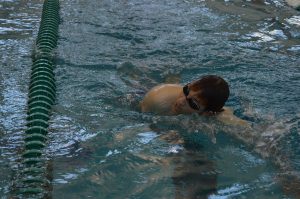 Swimmer sophomore Jarred McCormick has been swimming for Pattonville since his freshman year and will take part in the meet. McCormick has been a part of other swim teams over the past six years when he started swimming competitively.
"I started swimming because my sister had been swimming, and it looked fun. I also thought it would be easy," McCormick said. "It wasn't."
Although he has swam for other teams prior to Pattonville's team, he thinks that Pattonville is more vigorous in comparison to those.
"The high school swim team is much more intense, more focused, and much longer than other teams."
At practice, McCormick, like most swimmers, practices each stroke that is involved in swimming, but also like most swimmers, he has a favorite stroke and event.
"My favorite stroke is the breast stroke," McCormick said, "but my favorite events are long distance freestyle events."
To counter this, McCormick did point out that the butterfly stroke is by far his hardest stroke to succeed with.
McCormick does not only limit himself to be a part of the swim team but also balances many other extracurricular activities around the sport.
"My only sport is swimming but I also participate in Speech and Debate, theatre, Model UN, Boy Scouts, and Orchestra."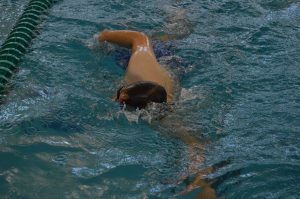 Even while involved in so many things, McCormick continues to balance classes such as AP Euro and Gifted Honors English without getting very stressed out.
"I balance sports and school by doing all my homework until it's done each night and work on it as much as I can during school."
Despite the fact McCormick is a very busy sophomore, he takes a lot of pride in being involved in a vast array of things, especially the swim team, as well as the qualities they've brought to him.
"Being on the swim team has helped me make friends and meet people from other schools," McCormick said. "It has improved my fitness and made me get better at balancing work."
The Green and White Meet will take place in the Pattonville Swimming Pool at 4 p.m. on Friday, August 19.